Eastern Avenue NE is one of three boundary streets between Washington, DC, and the State of Maryland. The District Department of Transportation (DDOT) records indicate that Eastern Avenue NE was constructed with 8" reinforced concrete and topped with 2" asphalt.
DDOT began the design process for rehabilitation of Eastern Avenue NE from New Hampshire Avenue, NE to Whittier Street, NW. The objective of this project is to rehabilitate or reconstruct Eastern Avenue NE; replace the deteriorated sidewalk, curb, gutter including intersection design of New Hampshire Avenue NE to improve pedestrian safety; access and visibility at all intersections; replace deteriorated catch basins and manholes, and introduce public realm improvements along Eastern Avenue from New Hampshire Avenue NE to Whittier Street NW.

Objectives
DDOT has proposed improvements on Eastern Avenue, from New Hampshire Avenue NE to Whittier Street NW in order to do the following:
Reduce vehicle speeds
Improve pedestrian movements and safety
Provide a safer roadway for bicyclists
Reconstruct non-ADA compliant features
Reconstruct deteriorating roadway infrastructure
Some possible improvements include new bike lanes and sidewalks, as pictured below.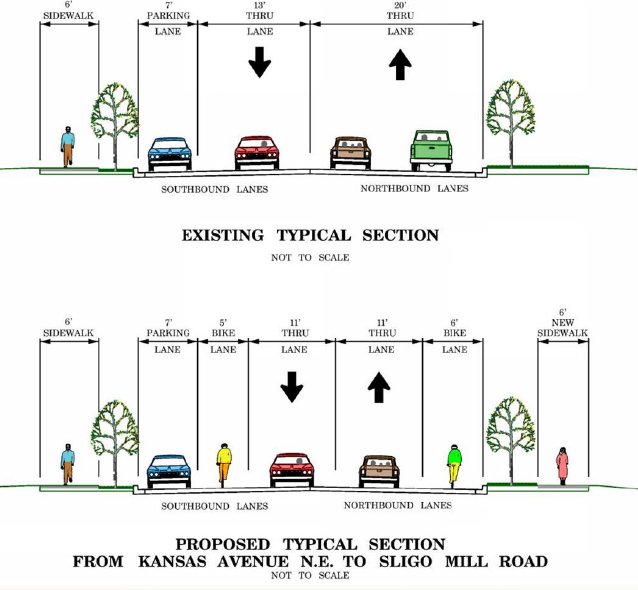 Roadway improvements:
Sidewalk and bike lane addition from Kansas Avenue NE to Sligo Mill Road
Construct new 6-foot sidewalks with 6-foot grass buffer northbound from Sligo Mill Road to North Capitol Street NW
Full-depth Pavement Reconstruction from Whittier Street NW New Hampshire Avenue NE
Street lighting upgrade for the entire length of the project and underground installation of ducts to accommodate lighting and traffic and communication cables
The Installation of new traffic Signal and intersection reconfiguration at Sligo Mill Rd. and Eastern Ave. NE
Signal modifications and ADA improvements at the intersection of Eastern Ave. NE and New Hampshire Ave. NE
Modification of existing traffic signals at Eastern Ave. NE and Kansas Ave intersection to accommodate left-turn lane in the Westbound direction
Granite curbs for the entire length of the project
Current Project Schedule
Design Completion: Winter 2022 - 2023
Construction Begins: TBD
Construction Completion: TBD
Project Contacts:
Stacee Hemby, Project Public Outreach, [email protected]
Design Plans (Hosted on DDOT Scribd)