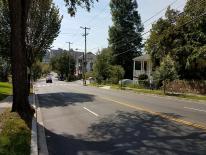 Mayor Bowser is committed to providing safe streets across the District, and the Wheeler Road, SE Safety and Complete Streets Project is an important piece of that commitment.
Take the Wheeler Road Traffic Safety Tools Preference Survey (also available at the bottom of this page)
---
What are Complete Streets?
Complete Streets are streets designed for all users including motorists, pedestrians, bicyclists, and transit riders of all ages and abilities. In 2010, DDOT adopted a Complete Streets policy that requires all transportation projects accommodate both motorized and non-motorized users of all abilities. Since then, DDOT has been working across the District to bring existing streets up to this standard and build new streets to this standard.
What is being proposed?
DDOT plans to install various safety and complete streets enhancements to improve safety and access on Wheeler Road. There are many tools that can be used to improve safety and access on Wheeler Road including a road diet, pedestrian islands, curb extensions, and automated traffic enforcement.
When did this project start?
The project is starting now. We are seeking your input on which traffic safety tools you support for Wheeler Road via the Wheeler Road Traffic Safety Tools Preference Survey.
How will this improve street safety and access?
Curb extensions improve pedestrian safety by improving visibility and reducing crossing distances;
Road diets have been shown to reduce vehicle rear-end, left turn and right turn crashes;
Automated speed enforcement cameras reduce speeding.
Will it affect parking?
No. Parking will be maintained where it is currently needed and utilized.
Will this make traffic worse?
No. The traffic tools are intended to improve safety and access. A traffic analysis was conducted to evaluate a road diet and found that the majority of Wheeler Road would operate similarly with a lane reduction. However, two lanes are recommended to remain at the intersections of Southern Avenue (southbound) and Alabama Avenue (northbound) and a turn lane is recommended at Mississippi Avenue (northbound) to maintain current traffic operations.