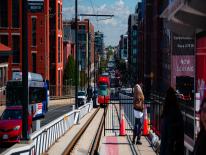 As a world-class city, Washington, DC offers residents and visitors a variety of options to travel everywhere they live, work, and play. Whether driving, using transit, cycling, rolling, or walking, DDOT prioritizes safety for all users of the roadway as they traverse the city.
goDCgo is a DDOT initiative that encourages the use of sustainable transportation and provides complimentary transit resources and consulting services to DC organizations and commuters. The primary goal of goDCgo is to decrease traffic congestion, improve air quality and create a better quality of life in the DC area.
Like so many cities across the nation, the District continues to grow and expand the transportation network. DDOT continues to find innovative ways to manage all users of the roadway:
DDOT manages car and truck storage at the curbside through a robust program that includes parking meters, Visitor Parking Permits and several other programs. The growing popularity of rideshare, ride hailing and food delivery services; increased use of dockless scooters and bikes, and the increased popularity of active transportation has changed how the curbside space is used.
At some point during the day, everyone is a pedestrian; whether walking to transit stop or station; walking to rent a bike or scooter; or walking to grab food or visit a local business. DDOT is hard at work to make DC roads safer for pedestrians by installing Leading Pedestrian Intervals to allow more time to cross at a signalized intersections; HAWK signals that make it safer for pedestrians to cross busy roadways, among other safety interventions.
Capital Bikeshare is metro DC's bikeshare system, with more than 4,300 bikes available at 500 stations across six jurisdictions: Washington, DC; Arlington, VA; Alexandria, VA; Montgomery County, MD; Prince George's County, MD; Fairfax County, VA; and the City of Falls Church, VA. Capital Bikeshare provides residents and visitors with a convenient, fun and affordable transportation option for getting from Point A to Point B.
The DC Circulator provides public transportation to the District's main attractions and most lively neighborhoods for business, culture and entertainment. The system consists of six distinct routes across Washington, DC, and even into Rosslyn, VA, and provides close to five million trips a year. The Circulator services each stop every 10 minutes, providing simple, fast and affordable transit to residents, commuters and visitors around the nation's capital.
Launched in February 2016, DC Streetcar facilitates travel for District residents, workers, and visitors by complementing existing transit options and by creating neighborhood connections where they currently do not exist. DCstreetcar.com helps passengers stay informed about service for the H Street/Benning Road line including trip planning tools, rider tips, and more.