Objective: By the year 2024, Washington, DC will reach zero fatalities and serious injuries to travelers of our transportation system, through more effective use of data, education, enforcement, and engineering.
Vision Zero is a part of Mayor Bowser's response to the US Department of Transportation's Mayor's Challenge for Safer People and Safer Streets, which aims to improve pedestrian and bicycle transportation safety by showcasing effective local actions, empowering local leaders to take action, and promoting partnerships to advance pedestrian and bicycle safety.
Vision Zero requires an all-hands-on-deck approach. More than 20 District government agencies are engaged in the Vision Zero Initiative, including DDOT, Department of Public Works, the Deputy Mayor for Health and Human Services, Metropolitan Police Department, DC Taxi Cab Commission, the Department of Motor Vehicles, the DC Office on Aging, DC Public Schools, Fire and Emergency Medical Services, Homeland Security and Management, Office of Unified Communications, Department of Health, the Office of the Attorney General, Office of the Chief Technology Officer, Office of Disability Rights, Office of Planning, Office of the City Administrator, Office of the State Superintendent of Education, the Deputy Mayor for Education, Office of Policy and Legislative Affairs, and the Deputy Mayor for Planning and Economic Development.
Click here for the fiscal year 2019 Vision Zero Grant Application.
Click here to view a list of past Vision Zero Grant recipients.
Recent Reports
Contact the Vision Zero team at [email protected].
---
Dual Turn Lanes
In 2018, DDOT developed a plan to improve 36 intersections with dual turn lanes that pose multiple threat risks, especially to pedestrians.

Here are the locations.
---
"High Crash" Intersections
In 2015, Ward 3 Councilmember Mary Cheh coordinated site visits to five "high crash" intersections with DDOT during an 8-day period from August 27 to September 5, 2015. The site visits engaged members of the local Advisory Neighborhood Commissions, Business Improvement Districts (BIDs) and other business groups, members of the Bicycle and Pedestrian Advisory Councils (BAC and PAC), the Washington Area Bicyclist Association (WABA), All Walks DC and other concerned stakeholders.
The following reports came out from the site visits:
Public comments may be submitted to [email protected].
---
Vision Zero Webpage
Engineering and Infrastructure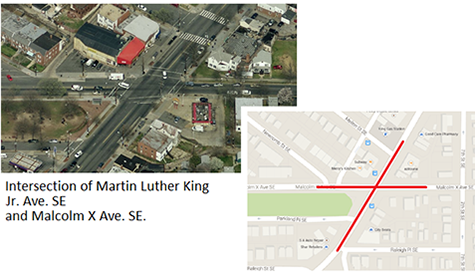 Martin Luther King Jr. and Malcolm X Avenue, SE
Careful data analysis will identify specific locations that require new interventions and safety strategies. The intersection of Martin Luther King Jr. Avenue, SE, and Malcolm X Avenue, SE, is one example. DDOT has planned a $5 million investment for safety improvements at the intersection.
Enforcement and Education
Greater enforcement and education will protect our most vulnerable travelers. Infrastructure alone will not reduce fatalities and serious injuries to zero.
Data
Vision Zero strategies will be informed by a systematic data and information-driven process that identifies and prioritizes interventions with the greatest potential to eliminate fatalities and serious injuries.
Vision Zero Community Awareness Events
In the summer of 2015, the Vision Zero team visited various locations around the District of Columbia to share the Vision Zero mission and to garner input from the public about locations seen as critical.
The events were held in the locations here and all residents and visitors were invited.
Vision Zero Safety Map
Click the link to go to the
Vision Zero Safety Map.
By clicking or tapping on a location on the map, you can report a transportation hazard.
Use this map to identify any and all locations at which you have noticed hazardous conditions or behavior.

Resources
Planning Timeline





Tweets
Tweet your suggestions using #VZDC
Vision Zero in the News