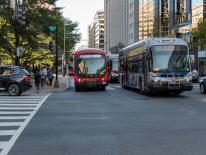 The District Department of Transportation (DDOT) provides a broad array of transit services for residents, workers and visitors to efficiently and affordably move about the District. DC Circulator buses criss-cross the city today, DDOT helps K-12 students get to school through the Kids Ride Free Program, funds Metrorail and Metrobus service in the District, and works closely with the Washington Metropolitan Area Transit Authority (WMATA) to make service improvements for riders.
DDOT is working to improve bus travel speeds and reliability across the District through bus priority projects.
---
DDOT is currently replacing all of the bus shelters in the District with new, modern shelters.
---
The Circulator's distinct red buses are unlike any other public transit around town—with low floors, big windows, and multiple doors for easy on-and-off service.
The Metro Express was developed by DDOT and WMATA to provide faster, limited-stop bus service for District residents in heavily traveled corridors.
---
The KRF program allows students to ride for free on Metrobus, the DC Circulator, and Metrorail within the District to get to school and school-related activities.
A federally funded program to assist organizations that provide transportation for the elderly and persons with disabilities.