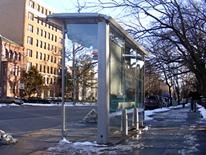 DDOT is currently replacing all of the bus shelters in the District with new, modern shelters, under a 20-year agreement with Clear Channel.
Clear Channel provides and maintains the new bus shelters located throughout the city. In addition, through revenue generated and paid to the District from the sale of advertising on the bus shelters, the District has earmarked $100 million to finance the Great Streets program to improve and beautify some of the major transportation corridors in the District.
Residents can request new shelters or report problems about the bus shelter program on the following website, http://www.washingtondcbusshelters.com/
Goals
To provide access to transit services for District school children and elderly residents.
Program at a Glance
Program Title: Bus Shelter Program
Agency: District Department of Transportation
Type: Outreach and Education
Related Information