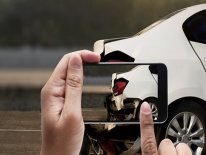 Getting into a crash can be stressful and chaotic; it's difficult to remember what to do immediately following a crash. Make sure you know the steps to take after a minor car crash (and what not to do!) so you can get back on the road safely.
If you are involved in or witness a crash where medical or police assistance is needed OR the vehicles are damaged and cannot be driven, call 9-1-1 IMMEDIATELY.
Tips Immediately following a Crash:
Stay Calm and Assess the Scene
Keep your cool.
Do not get out of your car if it is unsafe to do so.
Turn on your hazard lights.
Be courteous, ask drivers and others about their well-being and make sure that no one involved has been injured or is in need of medical attention.
Document the Scene
Take photos of the license plate(s), make, and model of the vehicle(s) involved.
Take photos of the other vehicle(s) damage.
Take photos of your vehicle damage.
Take pictures or document landmarks, street signs, or address markers to identify the crash location.
Take pictures of any property damage or objects at the scene (debris, skids, fallen trees, etc.).
Locate witnesses and document their names and contact information.
Move Your Vehicle
Move vehicle(s) to help avoid a traffic jam and to keep yourself and your passenger(s) safe.
Exchange Information
Names of drivers and all passengers involved.
Insurance information of all vehicles involved.
Date and Time of crash.
Protect your ID. DO NOT provide your driver's license number or address.
Contact Your Insurer
The District of Columbia is a "no-fault" car insurance jurisdiction. The DMV instructs drivers to notify their insurance company in the event of a crash.
Download a copy of the Non-Injury Crash Checklist and Guide to have and use in the event of a crash: