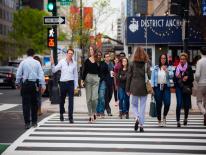 "Washington, DC will be a city where any trip can be taken on foot safely and comfortably, and where roadways equally serve pedestrians, bicyclists, transit users and motorists." (District Pedestrian Master Plan 2009)
Walking has been a fundamental part of everyday travel in Washington, DC from the City's initial design by Pierre L'Enfant in 1791. L'Enfant's plan for the City was inherently walkable. He envisioned a series of grand avenues radiating from the core of the City, and a grid street network that would overlay these avenues and conform to the contours of the land.
Over 200 years later, L'Enfant's layout of the City remains largely intact and provides both opportunities and challenges to modern pedestrian travel. While some parts of Washington, DC are known throughout the world for being great places to walk because of the grid network and tree-lined streets, others are not. Many of the grand avenues have become major arterial roadways, carrying heavy volumes of traffic and presenting challenges to pedestrians.
DDOT is Installing New Pedestrian HAWK Signals to Create Safer Streets
Video available on YouTube. Created by DDOT for details about how the new HAWK signals work and what pedestrians and motorists should know.
Installed at mid-block crosswalks, the Pedestrian Hybrid Beacon System (PHB), formerly known as the HAWK, remains dark until a pedestrian presses a pushbutton to activate the system. When activated, the system flashes a sequence of amber warning beacons followed by red "stop" beacons, providing motorists with an unmistakable message to stop.
The HAWK signal is designed with a signal beacon to help pedestrians safely cross busy streets. While it appears differently to motorists, to the pedestrian the signal works similarly to other push-button-activated traffic signals in the District by stopping traffic with a red signal for vehicular traffic and allowing pedestrians to cross with a WALK signal. For motorists, the HAWK signal displays standard signal indications but in a new sequence.
Pedestrian Master Plan
As a result of pedestrian safety challenges, DDOT developed the Pedestrian Master Plan 2009. This serves as the foundation for DDOT's pedestrian programs and represents the first comprehensive citywide effort to address pedestrian issues. The Pedestrian Master Plan contains an analysis of current walking conditions in the city, recommendations for policy and physical updates, and an implementation plan. The goals of the plan are:
To reduce the number of pedestrians killed and injured in crashes with motor vehicles
To increase pedestrian activity by making walking a comfortable and accessible mode of travel throughout all parts of the District.
Priority Corridors
The Pedestrian Master Plan identified roads that have high levels of pedestrian activity, yet poor conditions for walking. Combining this data with input from the public, DDOT identified eight priority corridors - one in each ward. Improvements to these corridors have been ongoing.
Currently, the District is working on upgrading the following pedestrian facilities:
Pedestrian Safety
On average, there are approximately 650 pedestrian crashes per year in the District and approximately 15 pedestrian deaths. DDOT is committed to making a safer environment for pedestrians and publishes crash data.
For more information, visit Bicycle and Pedestrian Safety.
For more information, visit the Barnes Dance
Contact
For more information, contact DDOT's Pedestrian Program Coordinator, George Branyan.
Goals
To promote safe and convenient pedestrian assess throughout the District.
Program at a Glance
Program Title: Pedestrian Program
Agency: District Department of Transportation
Office: Planning and Sustainability Division (PSD)
Type: Planning and Strategy
Phone: (202) 671-2561
Related Documents
Related Information