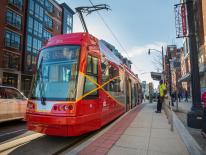 The District Department of Transportation (DDOT) provides a broad array of transit services for residents, workers and visitors to efficiently and affordably move about the District. DDOT helps District students get to school through the Kids Ride Free Program, DDOT funds Metrorail service in the District, works closely with the Washington Metropolitan Area Transit Authority (WMATA) to make service improvements for riders, and DC Streetcars are running once more in the District.
DDOT is currently replacing all of the bus shelters in the District with new, modern shelters, under a 20-year agreement with Clear Channel.

The Circulator's distinct red buses are unlike any other public transit around town—with low floors, big windows, and multiple doors for easy on-and-off service.
DDOT has started construction of two streetcar lines and has an ambitious plan to reestablish streetcar service across the District.
The K Street Reconstruction and Revitalization is an exciting project that would reconfigure one of the District's major east-west corridors, K Street, NW, with vast improvements to benefit mass transit passengers, pedestrians, cyclists, and tourists.
The Metro Express was developed by DDOT and WMATA to provide faster, limited-stop bus service for District residents in heavily traveled corridors.
The District of Columbia Alternative Analysis (DCAA)
The DCAA is a comprehensive evaluation of surface transportation alternatives to meet the intra-city access and mobility needs of DC residents, employees and visitors.

The School Transit Subsidy Program provides reduced fares for District students who use Metrobus, Metrorail, or the DC Circulator to travel to and from school.
A federally funded program to assist organizations that provide transportation for the elderly and persons with disabilities.

The Tri-state Oversight Committee (TOC) is the State Safety Oversight (SSO) agency for the Washington Metropolitan Area Transit Authority (WMATA) Metrorail system.

the Union Station Intermodal Transportation Center (ITC) Feasibility Study was designed to investigate the development, design, and construction of a new transportation hub at Union Station.

The District of Columbia, Virginia, and Maryland responsibility for mass transit services operated by the Washington Area Metropolitan Transit Authority (WMATA).