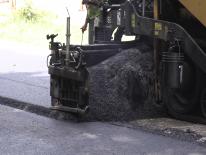 To request repair services call the Mayor's Citywide Call Center at 311 or complete a service request online using the District government's Service Request Center. Once completed, a service request will be generated and a service request number will be provided to track the status of the request. Please call 311 or (202) 727-1000 if the problem hasn't been repaired by the specified date of completion. Please reference your service request number.
Request repairs be made to maintain the safety and function of alleys in the District.
Request repairs be made to maintain the safety and function of curbs and gutters along public roadways.
DDOT FY13 Draft Work Plan - Paving, Street, Alleys, Sidewalk, Curb and Gutter
Request this quick effective temporary repair to extend the life of the driving surface before milling and paving takes place.
Report a broken parking meter to ensure that the District's parking meters are in good working order.
Request sidewalk repair to ensure safe usage of the District's sidewalks by addressing structural and safety concerns.
Request installation and/or maintenance of street/alley lights throughout the District.
Request street repair to mitigate damage/wear-and-tear to roadways in the District.
Starting in spring and continuing throughout fall, DDOT performs annual routine street maintenance work to keep the pavement as close as possible to its newly constructed condition.
Suspended streets are those listed streets that have recently been restored or repaved and are under an excavation suspension/moratorium for five subsequent years.
When a utility cut request is approved, DDOT ensures that it is underataken in compliance with the District's permitting guidelines, and that public space is restored within District standard specifications to ensure the public's safety.