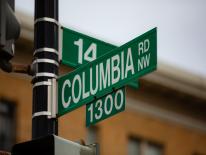 You can request street sign services, including the replacement of missing or damaged signs, by calling the Mayor's Citywide Call Center at 311 or completing a service request online using the District government's Service Request Center. Please identify the specific location (i.e. address, intersection) and describe the specific message of the sign and whether a signpost is also needed.
Scheduled Response Time
STOP sign replacement: 24 hours

Traffic control sign replacement: 35 days

Parking sign replacement: 60 days

Street name sign replacement: 45 days
NOTE: Requests for "new" traffic control signs require investigation, determination, rulemaking, and if approved, publication in the DC Register. This process could take 4-6 months to complete.
DDOT's standard is to investigate and respond to sign requests within the timeframe indicated. Call the Mayor's Citywide Service Request Center at 311 or (202) 727-1000 if the problem hasn't been resolved by the specified time of completion. Reference your service request number.
Service Need
To request the replacement of a damaged or missing street sign, or the installation of a new sign.
Service at a Glance
Provided By: DDOT
Phone: 311
Location: 55 M Street, SE, Suite 400 Washington, DC 20003