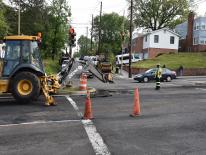 Street repairs can include damage or wear-and-tear to roadways in the District.
You can request street repair services by calling the Mayor's Citywide Call Center at 311 or completing a service request online using the District government's Service Request Center. Identify the specific location (i.e. address, intersection) and the specific repair problem (i.e. uneven pavement, numerous potholes). Describe the paving material (i.e. concrete, asphalt, or brick). A service request will be put into the tracking system, and you should receive a service request number.
Scheduled Response Time
Investigation: 30-90 days (scheduling required)
Street construction activities are determined and budgeted based on a pavement condition index survey and other pertinent factors. Actual work begins following funding and contract approval processes.
DDOT's standard is to resolve non-emergency street repair problems within the context of its annual federal and local budgets. You can call the Mayor's Hotline at 311 or (202) 727-1000 if the request hasn't been resolved by the specified time of completion. Please reference your service request number.