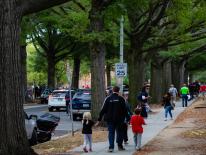 The DC Safe Routes to School (SRTS) program receives funding from the Federal Highway Administration (FHWA). The Program was created by Section 1404 of the Safe, Accountable, Flexible, and Efficient Transportation Equity Act: A Legacy for Users Act (SAFETEA-LU). The DC SRTS Program is funded at $10,000,000 over 13 Federal fiscal years (FY 2005-2018).
The DC Safe Routes to School Program works to:
Improve safety for students who walk and bicycle to school
Encourage students and their parents to walk and bicycle to school
Boost student physical activity, reduce parents' fuel consumption, and reduce pollution and traffic congestion near schools.
To help achieve those goals, DDOT offers:
Safe Routes to School planning assistance for DC Schools that are interested in improving safety for student walkers and cyclists. DDOT will help schools create a plan.
Sidewalk construction policy requires the installation of new sidewalks, where needed, to ensure a safe and accessible environment for pedestrians and persons with disabilities. Additionally, this policy provides a consistent process for prioritizing the installation of new sidewalks, providing public notice of pending construction, evaluating public comments, and exempting some street segments from the sidewalk installation requirements.
Bicycle Education provides youth bicycle safety education and programming in DC public schools, as well as skills challenge courses for community events. We can also help arrange for individual lessons for kids. DDOT also offers bike education for adults. .
Contact
Derrick Hardy
DC Safe Routes to School Coordinator
(202) 671-2278
External Links and News