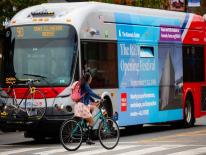 The District of Columbia Department of Transportation (DDOT) and the Washington Metropolitan Area Transit Authority (WMATA) occasionally receive requests for new transit to serve schools.
DDOT provides approval and funding for new transit services and WMATA provides the services.
You can request new transit services for your school if you meet the criteria provided in the document below. To request new transit services for your school, please print the form below, fill it out, and return it to the individual listed on the form.

The deadline for submitting the form is March 31 by 5:30 pm for consideration for following school year (September through June).
Scheduled Response Time
Requests will be responded to prior to the start of the following school year.
Service Need
To evaluate requests from schools for new transit services.
Service at a Glance
Provided By: DDOT
Location: 55 M Street, SE Washington, DC 20003
Related Document