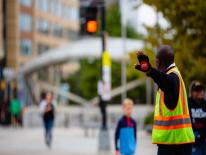 DDOT's School Crossing Guards protect the safety of students who walk, bike, or take transit to school. School crossing guards help students safely cross hazardous intersections en route to the school building and work in conjunction with school monitors, school security, parking enforcement officers, roadway traffic operations patrols, and police officers. The table of schools and intersections covered by DDOT can be found below and in the attachment section of the website. DDOT will continue to update the table to reflect the latest deployment plan.
Check out this interactive map to find out where school crossing guards are assigned across all eight wards.
Request a New School Crossing Guard
To request a new School Crossing Guard, school principals should download the "School Crossing Guard Request Instructions" and the "School Crossing Guard Request Form" and submit to DDOT. DDOT will evaluate each request and assign School Crossing Guards based on priority and availability of resources.
Looking to join the DDOT team?
Health and life insurance benefits and retirement benefits:
Complimentary Capital BikeShare Membership
Continued professional development, and professional growth through DDOT University, the in-house training available for all DDOT employees.
Employer-assisted housing loan program, providing payment and/or closing cost financing for first-time homebuyers (restrictions apply).