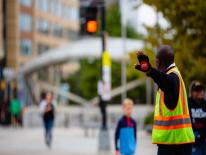 DDOT's School Crossing Guard Program works to improve the safety of students who walk, bicycle, or take transit to school. The role of a school crossing guard is to help students to safely cross hazardous intersections en route to school. They are not to replace school monitors, school security, parking enforcement officers, roadway traffic operations patrols, or police officers.
DDOT is doing its part to provide a safe and efficient method for students to get to school. We hope you encourage all students to walk, bike or ride transit to school. This will help manage congestion and pollution in the District as well as improve safety for students and all pedestrians.
See the following interactive map featuring citywide intersections with assigned school crossing guards.
History of the School Crossing Guard Program
In FY 2008, the District's School Crossing Guard Program was transferred from the Metropolitan Police Department to DDOT. The purpose of this transfer was to use DDOT's expertise and responsibility for transportation safety to provide for safe passage of students to school.
How to Request a New School Crossing Guard
DDOT accepts requests for new School Crossing Guards. To request a new School Crossing Guard, download the "School Crossing Guard Request Instructions" and the "School Crossing Guard Request Form" below. Each school's principal must submit the completed Request Form to the address on the form. Requested locations will be scored and the locations with the highest scores will get top priority for new Crossing Guards, as resources become available.