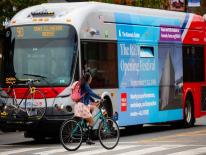 In an effort to ensure the accessibility and reliability of public transportation for students traveling to and from school each weekday, school officials can request that DDOT assess the feasibility of new public transit services that would benefit student movement. When requests for increased public transit services are received, DDOT provides approval and funding, in conjunction with WMATA providing transportation services. DDOT reserves the right to deny any request based on bus availability, operator availability, funding allocation, and route saturation.
Only school officials may request new public transit service requests on behalf of their students. Before a school requests new public transit services for their community, please ensure that the school meets the following criteria:
Your school will have at least 500 enrolled students.

Your school will be located within 0.5 miles of at least one existing Metrorail or Metrobus stop.

Your school has a transportation plan to assess and monitor how students and staff travel to/from school each day.
To request a new public transit service for a school, please email [email protected]. A member of the District Department of Transportation's Bus Priority Team will return correspondence with information regarding the service request process.