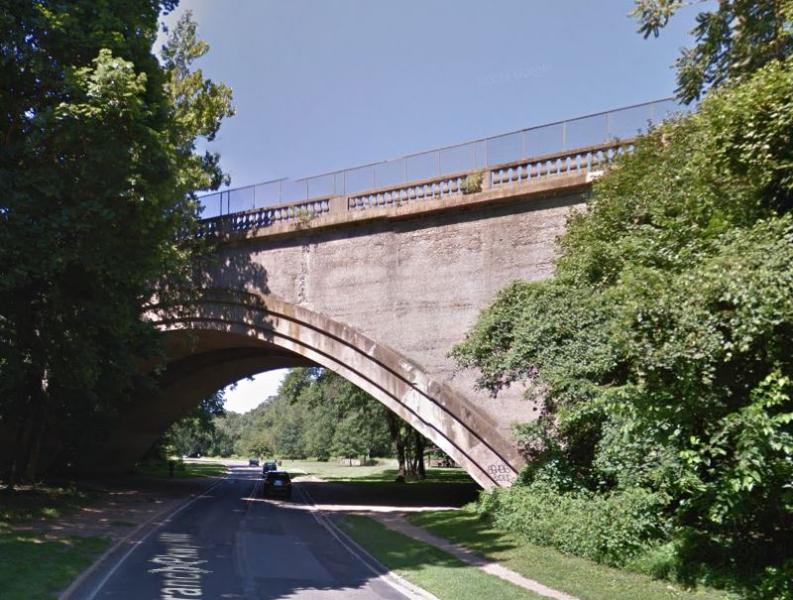 The 16th Street NW Bridge over Piney Branch Parkway (Bridge No. 0022) is a single-span concrete closed spandrel deck arch bridge with two enclosed approach spans that carries five lanes of two-way traffic (three lanes northbound and two lanes southbound) on 16th Street NW over Piney Branch Parkway in Northwest Washington, DC.
The bridge features a parabolic arch, which is considered to be the first parabolic concrete arch in the United States. It consists of dual parallel arches joined by steel beams and a deck supported by spandrel beams.
The spandrel structure is covered by a concrete façade, which gives the bridge a solid simple appearance. Its concrete masonry, faced with sandstone and pebble aggregate, conforms to the model established for the Rock Creek Park crossings.
The bridge was originally constructed in 1906 and 1910 and rehabilitated in 1992. The rehabilitation included replacement of the deck, repair of deteriorated concrete, the addition of a bridge railing along the east and west sidewalks, and replacement of inspection ladders/rungs. This project consists of the following tasks:
In-Depth Inspection of Structures
Non-Destructive Testing of Concrete
Historic Survey of Bridge Features
Geotech Investigation and Abutments Slope Evaluation
Roadway design; Drainage / SWM/ ESC
Utility Investigation
Signal modifications and Lighting design
NEPA and Section 4(f) Compliance, Section 106, and Endangered Species Act Review
Lane and Sidewalk Configuration Evaluation
Stakeholders and Public Involvement
Maintenance of Traffic
Project Management, Coordination, and Meeting
Project at a Glance
Project Title: 16th Street Bridge NW over Piney Branch Parkway
Providing Agency: District Department of Transportation
Office: Infrastructure Project Management Division (IPMD)
Status: Progress
Type: Rehabilitation
Contact: Zahra Dorriz
Phone: (202) 671-4584