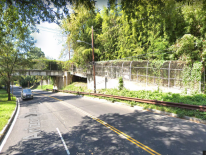 The project area includes a 0.65-mile long section of the "Glen Echo Trolley" trail from Nebraska Avenue, NW to Galena Place, NW including a 110-ft long pedestrian bridge crossing Arizona Avenue and an associated pedestrian access ramp.
Purpose
The purpose of this project is to rehabilitate or replace the superstructure of the Arizona Avenue pedestrian bridge and ramp, to provide proper clearance over Arizona Avenue, and to provide an all-weather surfaced ADA-Compliant trail for the full length of the project.
In addition to this scope, DDOT is working on the feasibility of new East pedestrian access ramp on the south side of Arizona Avenue. Proposed crossing improvements at Arizona Avenue, NW and Sherier Place, NW
The project will also include drainage, storm water management facilities, and landscaping along the trail. This bridge and trail project will upgrade the existing facilities to current standards and provide improved access from the neighborhood to the Palisades Recreation Center. The preliminary design is complete and project is progressing towards the next phase of the design.
Public Meetings
DDOT held the second public meeting for this project on January 15, 2020, at Key Elementary School. You can find links to the presentation and board in the "Attachments" list below.