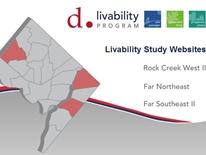 What is Livability?
Livability is a term that refers to community quality of life as experienced by the people who live, work, and recreate there.
Livability recognizes that strong communities rely on the interplay among key development areas including transportation, public health, housing, cultural resources, and the natural environment.
What is the Goal?
Livability sounds like a buzzword, but it is a big idea. DDOT is taking up the challenge and making it a goal to translate that idea into actual actions. Outcomes will be aimed at on the ground changes such as enhanced pedestrian crossings, more accessible bus stops, geometric adjustments that support intersection safety, increased green spaces, attractive streetscapes, signage for better driver information, updates to traffic signal timing, and speed controls in sensitive areas.
Livability Studies