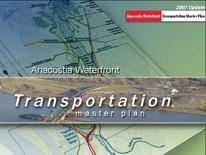 The District Department of Transportation (DDOT) is helping to transform the Anacostia Waterfront into a better place for citizens to live, work, and play. As part of the Anacostia Waterfront Initiative (AWI), DDOT is pursuing a plan to reshape the area's transportation network into one that provides easy access for residents, commuters and visitors, and improves the area's environmental quality. DDOT's objective is to reconnect communities through the replacement of outdated and deteriorating facilities with context sensitive infrastructure solutions. To accomplish these aims in the AWI area, DDOT has developed the Anacostia Waterfront Transportation Infrastructure Master Plan.
DDOT's transportation plan for the AWI area is comprised of five key transportation corridors as well as several independent projects. The Master Plan is an umbrella document that organizes these studies and projects into a comprehensive program. Its primary focus is to establish a logical and efficient implementation plan for the ongoing efforts in the in the AWI area, based on such factors as cost, duration of construction, environmental impacts, funding and benefits to the community. DDOT is actively engaged with its partner agencies and the development community to deliver these sweeping infrastructure changes as efficiently and effectively as possible. In all cases, minimizing disruptions to citizens' daily lives and to the economic life of the District has been a guiding principle. Projects have been sequenced in such a way as to provide residents with the highest possible levels of accessibility and personal mobility throughout the duration of the plan.
The Master Plan is a dynamic document, and the project sequence outlined here will continue to evolve, subject to constructability, funding, and changes to priorities. Therefore, this document represents a snapshot of DDOT's current and future plan for the Anacostia Waterfront.
Project at a Glance
Project Title: Anacostia Waterfront Transportation Master Plan
Providing Agency: District Department of Transportation
Office: Infrastructure Project Management Administration (IPMA)
Status: Completed
Type: Education/Training
Related Document