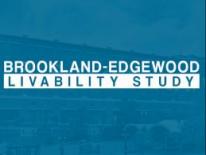 The District Department of Transportation (DDOT) completed a six-month livability study of the Brookland and Edgewood areas. DDOT livability studies seek to improve daily quality of life by taking a big picture look at the street network and by identifying concrete actions to increase safety and improve transportation connectivity and accessibility. The study area included two neighborhoods, Brookland and Edgewood, which are unique and also have ties to one another. Through a collaborative process with the local community and stakeholders, DDOT developed study recommendations for improving multimodal connectivity, accessibility and quality of life for people who live, work and recreate in Brookland and Edgewood.
Study area boundaries were Michigan Avenue and South Dakota Avenue to the north; 18th Street, NE to the east; Rhode Island Avenue to the south, and Franklin Street to the west.
Study Goals for the Brookland-Edgewood Livability Study
Develop a comprehensive approach to traffic calming and operational improvements for all users living in and visiting the area.
Identify specific issues that impact safety and comfort of multimodal users, while also accommodating freight and delivery needs.
Design cost-effective and measurable system improvements that benefit all users. Reduce vehicle speeds where problems have been measured or identified.
Investigate and mitigate freight impacts on the area.
Emphasize safety and access improvements around neighborhood facilities including but not limited to: schools, churches, parks recreation centers, and other key community facilities.
Enhance comfort and livability for residents and visitors to the project area Identify areas where Low Impact Development (LID) can be implemented to better manage storm water impacts.
FINAL REPORT
The final report was completed August 2015.
RELATED DOCUMENTS
Below is a copy of the final report: