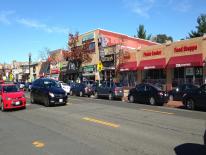 Project Summary
The Connecticut Avenue Multimodal Safety Improvement Project (originally named Connecticut Avenue NW Reversible Lane Safety and Operations Study) was initiated in December 2019. Data analysis, concept development and evaluation, traffic forecasts, and operations analysis were conducted between Spring 2020 and Fall 2020. Between March 2020 and January 2023, approximately 70 stakeholder and agency presentations/events have taken place.

During 2021, four Advisory Neighborhood Commissions — ANC 3C, 3E, 3F and 3/4G — and numerous organizations provided resolutions to DDOT requesting that "Concept C" be advanced. On December 15, 2021, Mayor Bowser and DDOT requested the project staff to move forward with Concept C. Concept C includes the removal of the reversible lanes and the addition of one-way protected bicycle lanes on the east and west sides of Connecticut Avenue. The project also adds other safety improvements, including the addition of left and right turn lanes at intersections, pedestrian refuge islands and curb extensions, intersection realignments, prohibition of Right Turn on Reds, reducing the posted speed limit from 30 mph to 25 mph, and other features.
For more information about this project, please visit connave-multimodal.ddot.dc.gov.