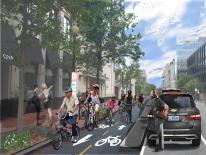 The District of Columbia is a compact city with relatively small distances between residential and commercial areas. For city residents, bicycling is often the fastest way to travel between home and the store, work, school, or other destinations.
The
Eastern Downtown Protected Bike Lane Study
will provide a safe, continuous, separated bicycle transportation infrastructure between some of the densest and fastest-growing areas of DC, connecting residential, retail, and institutional land uses with the downtown core.
The neighborhoods at the north end of downtown, including U Street and Shaw--which have seen increased development and population--have shown bike commuting trips in excess of 10 percent of total commuting trips. The District as a whole has seen the number of people commuting by bicycle quadruple in the past 10 years. This increase can largely be attributed to the District's addition of 60 miles of bike lanes since 2000, the incorporation and expansion of
Capital Bikeshare
and substantial increases in the availability of public and private bicycle parking.
Study Overview
The Eastern Downtown Protected Bike Lane project is driven by a need to connect central DC neighborhoods to downtown, as well as existing east-west bicycle facilities.
At the end of the project, DDOT will identify one preferred route and design for a protected bicycle lane on a north-south route in the eastern area of downtown. The preferred alternative will seek to minimize impacts on other uses of the roadway, including surface transit, parking, sidewalks, and traffic, while providing a low-stress place for people to ride a bicycle in accordance with moveDC's goals for bicycle infrastructure.
Public Engagement
On Saturday, February 6, from 12 pm to 4 pm, DDOT will host its second public open house meeting to meet with area stakeholders, gather feedback and gain a comprehensive understanding of transportation and community impacts as part of the alternative refinement phase. DDOT will present the "no build" and four draft alternatives for futher comment and refinement. The meeting will also include public testimony. The meeting will be at the following location:

KIPP DC WILL Academy-Auditorium
421 P Street, NW
Doors open noon, presentation at 1 pm followed by public testimony.
The first open house was held Thursday, October 22, from 6 to 8 pm at the Watha T. Daniel/ Shaw Library, 1630 7th Street, NW.

Project Title: Eastern Downtown Protected Bike Lane Study
Providing Agency: District Department of Transportation
Office: Policy, Planning and Sustainability Administration (PPSA)
Status: Ongoing
Related