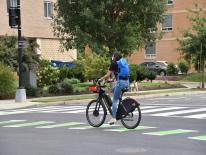 The District Department of Transportation (DDOT)'s bikesharing program, in partnership with Arlington County, the City of Alexandria, Montgomery County, Fairfax County, and Prince George's County is called Capital Bikeshare.
With Capital Bikeshare you can take a bicycle from more than 500 stations across the Washington, DC, metro region and return it to any station near your destination. Check out a bike for your trip to work, Metro, run errands, go shopping, or visit friends and family.
Join Capital Bikeshare for 24 hours, 3 days, 30 days, a year, or for a single trip and have access to our fleet of bikes 24 hours a day, 365 days a year. The first 30 minutes of each trip are free. Each additional 30 minutes incurs an additional fee. Since its launch in September 2010, riders have taken over 23 million trips. If you're riding for the first time, download the mobile app and enjoy one free ride under 30 minutes!
The stations are solar powered and use wireless technology to allow for easy installation and adjustments. Help Capital Bikeshare grow by suggesting station locations online.
Capital Bikeshare is the successor to DDOT's first bikesharing system called Smartbike DC, which launched in August 2008 with 10 stations and 100 bikes.
Bikeshare Development Plans
DDOT drafted a plan for the District's portion of the Capital Bikeshare system. This plan was drafted to create goals for the program, describe measures that track progress toward goal achievement, analyze how well the system is performing, generate system expansion scenarios and financial forecasts for the near term, and recommend an expansion strategy for the next six years that best meets the goals and addresses system performance gaps.
Read: The Final Report Below.