Block D v2 - Keep Up to Date - Social Media
This node is being overridden by the new responsive remote ui page template.
(WASHINGTON, DC) — The District Department of Transportation has been advised by RATP Dev USA, our contracted operator for the DC Circulator, of a potential strike, beginning May 1, with Amalgamated Transit Union Local 689, the union representing drivers.
Public Hearing: Bill 24-565, Safe Routes to School Expansion Regulation Amendment Act of 2021 and Bill 24-566, Walk Without Worry Amendment Act of 2021
Testimony of Everett Lott, Director, District Department of Transportation
Before the Committee on Transportation and the Environment
Vision Zero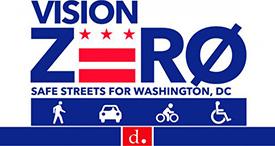 Vision Zero is Mayor Muriel Bowser's initiative, which states that DC will reach zero fatalities and serious injuries to travelers of our transportation system.