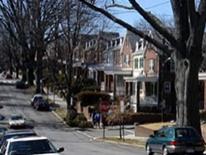 The Glover Park transportation study is complete. This study analyzed the existing transportation system and recommended projects to improve safety and access for pedestrians, bicyclists, motorists and transit users throughout the neighborhood.
Glover Park Transportation Study (Scribd) See the pdf version below.
The report provides a series of recommendations for enhancing the transportation system within Glover Park and the public space elements that support the transportation system that impact the quality of life of Glover Park residents, visitors and businesses.The report is a culmination of more than two years of involvement with the community, stakeholders and District agencies by the DC Department of Transportation that began in the spring of 2007.
Project Contacts
The study area for this project is bounded by:
South: Whitehaven Parkway, NW
North: 3700-3900 Cathedral Avenue, NW
West: 42nd Street, NW
East: 36th Street, NW
Project at a Glance
Project Title:
Glover Park Transportation Study
Providing Agency:
District Department of Transportation
Office:
Policy, Planning and Sustainability Administration (PPSA)
Status:
Complete
Type:
Other
Website:
tooledesign.com/projects/gloverpark
Related Document