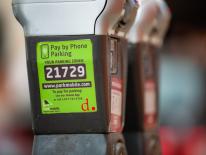 There are a variety of reasons why you might want to take a parking meter out-of-service including construction work, a special event, or because you're moving. The information below explains the process for submitting a request to the District Department of Transportation (DDOT).
Process for Taking Parking Meters Out of Service
DDOT instituted this cooperative parking meter policy for clarity and understanding the process, procedures and fee structure involved whenever an entity needs the use of a Public Space parking metered location or locations for a designated function in a limited time period.
This policy is only intended to be a guide and an instrument for understanding what is expected, and required by DDOT regarding requests to take parking meters out of service for a limited time; and to recover costs associated with the loss of revenue due to activities, which include but are not limited to the following:
Construction
Development
Special events
Moving
This policy is subject to change by the District for any reason.
Important Note: At no time should a parking meter be taken out of service without the proper knowledge and agreement of the District Department of Transportation, Traffic Operations Administrator, Citywide Program, Parking Meter Branch.
How to Make a Request
Requests to have meter(s) taken out of service must be made in at least seven working days in advance of the activity. Requests need to be made to the Permitting Center, located at 1100 4th Street, SW, 2nd Floor, between the hours of 8:30 am and 4:15 pm, Monday, Tuesday, Wednesday, and Friday. On Thursday the hours are from 9:30 am to 4:30 pm.
To request and post emergency no parking signs you can go to kiosks at any MPD District station and apply for and pay on-line for a permit and to print the signs.
Information I Need to Provide to the District
The request (sent to the above email address) should include the following information:
Type of request; i.e., construction, moving, special event, or dumpster placement
Parking meter numbers for each of the affected meters,
Specific dates and time for the duration of the request,
Approximate footage required (1-parking space is approximately 20 feet in length)
DDOT staff may make a confirming on-site visit. Each single-space parking meter has a specific ID number generally located in the glass portion of the meter dome. All parking meter ID numbers must be accurate and included in any request for single space meters and on the instruction panel on multi-space meters. For multi-space meters, estimate the number of parking spaces necessary to complete the activity. A minimum of four (4) hours is required to request taking parking meters out of service.