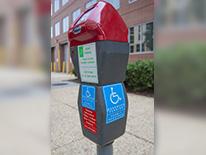 The District offers several programs intended to ensure on-street parking is accessible to residents and visitors with disabilities.
Red Top Meter Program
The Red Top Meter Program will be officially implemented Monday, May 8, 2017, in the Central Business District (CBD). Until that time, anyone may legally pay to park at a Red Top Meter although all should be sensitive to the access needs of persons with disabilities.
Effective early 2017, when the program is implemented, all must pay to park in the CBD and only individuals with disability placards and tags may pay to park at Red Top Meters.
Reserved On-Street Parking for Residents with Disabilities
Residents with disabilities who live in a single-family dwelling and meet certain other requirements can apply to have on-street parking spaces reserved for them.
To get more information on this program, please contact the DDOT Parking Team at [email protected].
Also, visit www.parkdc.com.

Disability Parking Permits and Tags
Disability parking permits, placards, and vehicle tags are offered by the DC Department of Motor Vehicles (DMV).
Application for Reserved Disabled Parking Permits (DDOT)

Related Information
Parking Decals and Permits for Vehicles Used by Persons with Disabilities (DDOT)
General Information on Parking Meters
Related Service
MetroAccess - The Washington Metropolitan Area Transit Authority (WMATA) is an independent organization. This website link is made available as a public service.