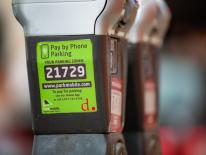 The goal of good parking management is to regulate the parking assets (spaces) in a manner that ensures that a percentage of spaces are available at any given time for short-term parking. This is vital for maximizing the potential flow of customers to the District's retail and dining establishments. Additionally, controlling congestion and improving traffic circulation are becoming increasingly important.
The District Department of Transportation (DDOT) uses many tools to accomplish these goals, including regulating timed spaces with parking meters. DDOT manages approximately 18,000 metered parking spaces. These are important assets to the District, and DDOT is constantly evaluating how to manage these spaces in a manner that benefits motorists, business owners, and, most important, residents in a fair and balanced approach.
Meter Rates and Hours of Operation
As of June 1, 2016, DDOT implemented adjusted parking meter rates as part of the Fiscal Year 2016 Budget Support Act. The rate structure established parking meter rates at $2.30 an hour for commercial and passenger vehicles citywide.
For information about current parking regulations and policies, please visit the DDOT Compendium.
Red Top Meter Program: Accessible Meters are parking meters with distinctive red top or red-poled space markers that are reserved and accessible for the exclusive use of persons with disabilities.

Motorists are advised to carefully check the days and hours of enforcement posted on the parking meters and curbside signs.
If you have any questions concerning the adequacy of the hours of operation, rate, or time limit for a specific location, please contact DDOT at (202) 671-2700.
Holidays
The District of Columbia does not require that meter fees be paid on District holidays.
The official and observed holiday schedules follow:
New Year's Day Observed - January 1
Martin Luther King Jr. Day - Third Monday in January
President's Day - Third Monday in February
DC Emancipation Day - April 16
Memorial Day - Last Monday in May
Juneteenth - June 19
Independence Day - July 4
Labor Day - First Monday of September
Columbus Day - Second Monday of October
Veterans Day Observed - November 11 (In 2017, Veterans Day will be observed on Nov. 10)
Thanksgiving Day - Fourth Thursday of November
Christmas Day - December 25
Note: Inauguration Day falls on January 20, and that is a legal public holiday for the purpose of pay and leave for employees scheduled to work on that day. When January 20 of any such year falls on a Sunday, the next succeeding day selected for the public observance of the inauguration of the President shall be a legal public holiday for all employees scheduled to work on that day. The "in-lieu-of" provisions in section 1222 – Determining Holidays, of Chapter 12, Hours of Work, Legal Holidays and Leave, are not applicable to Inauguration Day.
Note: By law, when the holiday falls on a Sunday, it is observed on the following Monday. When it falls on a Saturday, by law, it is observed on the previous Friday.