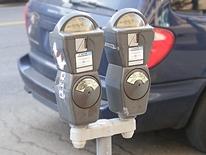 The goal of good parking management is to regulate the parking assets (spaces) in a manner that ensures that a percentage of spaces are available at any given time for short term parking. This is vital for maximizing the potential flow of customers to the District's retail and dining establishments. Additionally, controlling congestion and improving traffic circulation are becoming increasingly important.
The District Department of Transportation (DDOT) uses many tools to accomplish these goals including regulating timed spaces with parking meters. DDOT manages approximately 18,000 metered parking spaces. These are important assets to the District and DDOT is constantly evaluating how to manage these spaces in a manner that benefits motorists, business owners, and most important, residents in a fair and balanced approach.
Meter Rates and Hours of Operation
There are some important changes in the District's Parking Meter Operations that residents and motorists should be aware.

As of June 1, 2016, DDOT implemented adjusted parking meter rates as part of the Fiscal Year 2016 Budget Support Act. The new rate structure was ordered by the Council of the District of Columbia last year and it established parking meter rates at $2.30 an hour for commercial and passenger vehicles citywide.
This includes an FAQ on the meter rate changes.
As of May 8, 2017, the Red Top Meter Program will be implemented and enforced.
Since 2010, all meters in the city are enforced on Saturdays, as well as evening hours Monday through Friday. Saturday and evening hour enforcement is effective once the signage is changed.

Motorists are advised to carefully check the days and hours of enforcement posted on the parking meters and curbside signs.
In addition to the Saturday enforcement, DDOT has also simplified the District's parking meter rates.
To comply with new legislation, there are now only two types of parking meter pricing zones:
Meter Rates by Zone
It costs $2.30/hour to park in premium demand zones, which include the busiest commercial districts.

It costs $2.30/hour to park in normal demand zones.
The District's premium demand zone rate is comparable or lower than the premium rates in other major cities across the nation including New York City, Los Angeles, San Francisco, Chicago, Baltimore and Philadelphia where rates are $3 an hour or more.
DDOT has also changed the hours of enforcement for parking meters in the city's busiest commercial districts where on-street parking is often scarce.
Nighttime parking enforcement hours were extended to 10 pm in the following "premium demand zones:"
Adams Morgan

Georgetown Historic District

Penn Quarter/Chinatown

U Street NW Corridor

Downtown Central Business District

Maine Avenue and Water Streets SW

The National Mall

Wisconsin Avenue NW (from Van Ness Street to Western Avenue)
The hours of enforcement for parking meters outside of the above premium demand zones will continue to be 7 am to 6:30 pm.
Note: If you are unsure about the hours of operation, each meter or multi-space meter has a decal stating the hours of operation, time limit and rate for that location.
If you have any questions concerning the adequacy of the hours of operation, rate, or time limit for a specific location, please contact DDOT at (202) 671-2700.
Improvements
The changes in rates and enforcement are part of a comprehensive overhaul of the District's aging parking meter system. DDOT has already installed multi-space meters throughout commercial corridors in the District replacing many old and non-functioning single-space meters. In 2011 DDOT is rolling out a number of parking meter pilot programs including Pay by Phone and solar-powered single-space meters that take credit card payment.
Each of the programs explored the latest in parking meter strategies and technologies. DDOT is confident many of these new parking meter solutions will provide:
better return on tax payer's investment

a variety of easy payment options
Holidays
The District of Columbia does not require that meter fees be paid on District holidays.
The official and observed holiday schedules follow:
New Year's Day Observed - January 1
Martin Luther King Jr. Day - Third Monday in January
President's Day - Third Monday in February
DC Emancipation Day - April 16
Memorial Day - Last Monday in May
Independence Day - July 4
Labor Day - First Monday of September
Columbus Day - Second Monday of October
Veterans Day Observed - November 11 (In 2017, Veterans Day will be observed Nov. 10)
Thanksgiving Day - Fourth Thursday of November
Christmas Day - December 25
Note: Inauguration Day falls on January 20, and that is a legal public holiday for the purpose of pay and leave for employees scheduled to work on that day. When January 20 of any such year falls on a Sunday, the next succeeding day selected for the public observance of the inauguration of the President shall be a legal public holiday for all employees scheduled to work on that day. The "in-lieu-of" provisions in section 1222 – Determining Holidays, of Chapter 12, Hours of Work, Legal Holidays and Leave, are not applicable to Inauguration Day.
Note: By law, when the holiday falls on a Sunday, it is observed on the following Monday. When it falls on a Saturday, by law, it is observed on the previous Friday.
Related Document