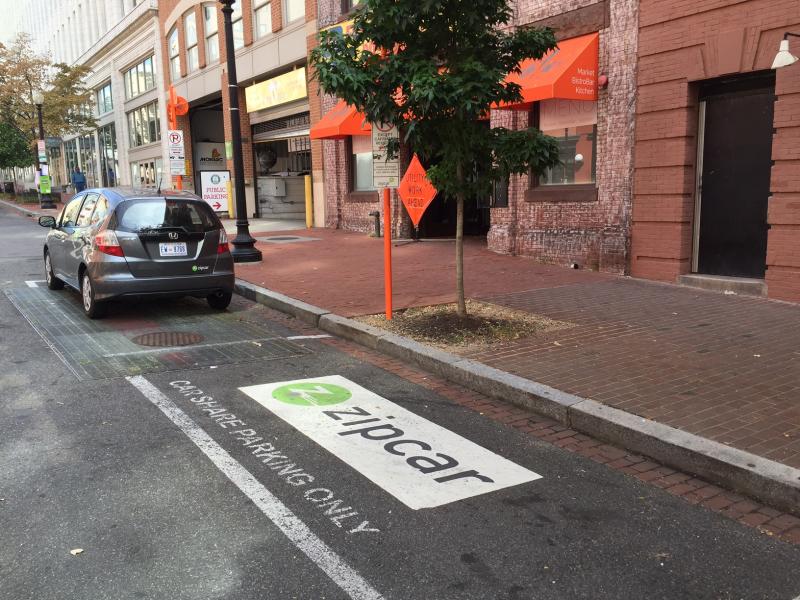 The District of Columbia was an early proponent of carsharing as an innovative way to help reduce traffic congestion and competition for parking spaces. Carsharing is a network of privately owned vehicles that are rented by minute, hour or day. Carsharing provides the mobility of a car without the expense of car ownership.
Experiences in other cities, as well as independent studies show that a single carsharing vehicle can be used by 6 to 10 households, thus helping reduce parking and traffic congestion. For this reason, the District Department of Transportation (DDOT) has partnered with both traditional and point-to-point carsharing companies to incentivize carsharing and establish a low emission and environmentally friendly fleet of cars in the District.
The most common model of carsharing is traditional (or two-way) carsharing, which requires customers to borrow and return vehicles at the same reserved carsharing location. The point-to-point (one-way) carsharing model allows customers to pick up a vehicle at one location and drop it off at another. Currently Zipcar is operating traditional (two-way) carsharing program, and Car2Go and Free2Move are operating a point-to-point carsharing programs in the District. All carsharing companies operating in the District are required to obtain a public space permit from DDOT's Public Space Regulations Administration (PSRA).
Reserved on-street traditional carsharing spaces were selected in consultation with Advisory Neighborhood Commissions, businesses, and community leaders. Carsharing locations and program details are available on the companies' websites. Zipcar and Car2Go vehicles all display a Zone 9 permit on their front windshields. The permit allows them to park in both residential and parking metered spaces free of charge and longer than the posted time limit. Car2Go will relocate vehicles that are parked in residential blocks for more than 24 hours.
The final rule that established this program was published in the DC Register on May 20, 2005 (52 DCR 4744). It can be found in Title 18 of the DC Municipal Regulations Sections 2406.12 and 2406.13.
Carsharing Frequently Asked Questions.
Goal
This is in an effort to reduce congestion and parking problems in the District.
Program at a Glance
Program Title: Carsharing Initiative
Agency: District Department of Transportation
Office: Policy, Planning and Sustainability Administration (PPSA)
Type: Planning and Strategy
Related Documents