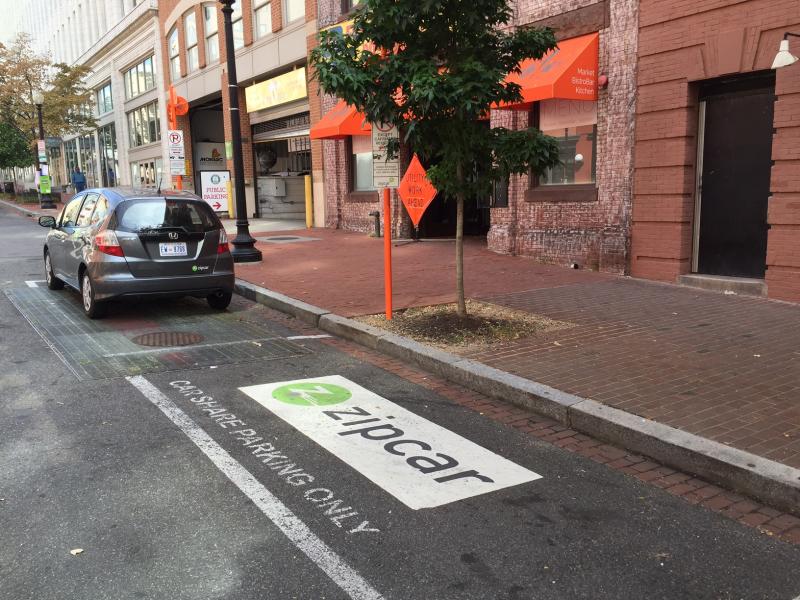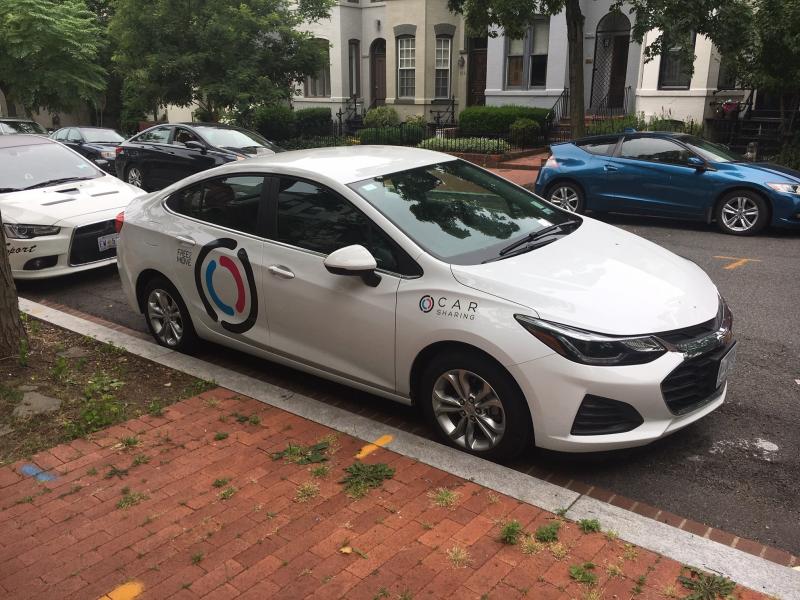 On-Street Carsharing in DC
The District of Columbia was an early proponent of carsharing as an innovative way to help reduce traffic congestion and competition for parking spaces. Carsharing is a service that provides a network of cars that are rented by minute, hour, or day. Carsharing provides the mobility of a car without the expense of car ownership.
The goals of DDOT's On-Street Carsharing Program are to decrease congestion and demand for parking, improve air quality, increase the availability of affordable short-term transportation, and ensure equitable access to carsharing services for all District residents.
There are two types of carsharing on-street in the District, point-to-point carsharing and reserved-space carsharing.
The carsharing companies that operate on-street are required to obtain a public space permit from DDOT. This public space permit allows these companies' carsharing vehicles to park in RPP zones for up to 24 hours and metered spaces longer than the posted time limit.
Point-to-point (one-way) carsharing allows customers to pick up a vehicle at one location and drop it off at another. Currently, Car2Go and Free2Move are operating point-to-point carsharing programs on-street in the District. To contact Car2Go or Free2Move directly, please see the below customer service information:
Reserved-space (two-way or traditional) carsharing requires customers to borrow from and return vehicles to the same reserved carsharing space. Currently, Zipcar is operating a reserved-space carsharing program on-street in the District. To contact Zipcar directly, please see the below customer service information:
For employers, residential sites, developers, and hotels, if you would like assistance with starting a corporate account for a carsharing service or placing a vehicle in your building, please reach out to goDCgo at [email protected].
Further carsharing locations and program details are available on the companies' websites.
Point-to-Point Carsharing Permits
DDOT released the terms and conditions for the Point-to-Point Carsharing Program for public comment on August 21, 2019. The sample permit terms and conditions, as well as the related attachments, are available below. The public comment period closed on September 5, 2019 at 5:00 p.m. These comments and the District's response will be made public at the end of this process.
The final permit terms and conditions (Sample Point to Point Carsharing Permit Terms and Conditions), the related attachments (DC Required Carsharing Service Area Map, DC Carsharing Data Formats), and the comment period comments and responses (Sample 2019 Terms and Conditions Comment Period Full Responses) were posted on 10/18/19 and are available below. The final permit terms and conditions document is 20 pages long. Please see the below timeline to move forward with applying for this permit.
Permit applicant contacts

[email protected]

and provide the following permit terms and conditions language

Permit Holder Name

Key Official

Contact Person

DDOT provides applicant-specific permit terms and conditions for signature

Applicant signs permit terms and conditions and submits data and document verification of permit compliance

DDOT completes review of permit compliance and issues or denies permit (5 business days after previous)

Permit issued (1 business day after previous)

Applicant's signed permit published on website (10 business days after previous)

2019 Permit Submission Deadline: November 15, 2019
Carsharing Regulation