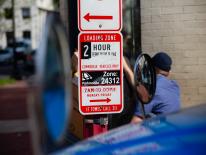 The District's Pay by Phone Program allows esidents, workers and visitors to use their mobile phones to pay for parking at all of the approximately 17,000 on-street metered spaces throughout the District of Columbia.
The program, administered by Parkmobile, provides another convenient payment option for drivers. Instead of paying with cash or a credit card, all it takes is a short phone call.
Motorists must first register for this service with the vendor through the web or by phone. Online, register at Parkmobile.
Please note: there is a small transaction fee ($0.32) added to the cost of parking for each Pay by Phone transaction.
Users can also download a mobile application to pay for parking from a smart phone.