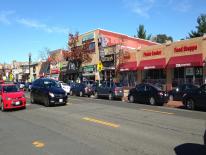 Project Summary
Connecticut Avenue Reversible Lane Operations and Safety Study were initiated in December 2019. Data analysis, concept development and evaluation, traffic forecasts, and operations analysis were conducted between Spring 2020 and Fall 2020. Throughout 2020 and early 2021, approximately 40 stakeholder and agency presentations took place prior to Public Meeting No. 1, which occurred on March 30th and April 1, 2021. The comment period for Public Meeting No. 1 concluded on May 8, 2021. The Mayor and DDOT announced a decision on December 15, 2021, for a preferred concept. Concept C is the preferred concept and will be advanced to the design phase.
The project will include an assessment of effects pursuant to the National Environmental Policy Act of 1969 (NEPA) and Section 106 of the National Historic Preservation Act of 1966 (NHPA). DDOT is inviting anyone who is interested to participate in the Section 106 process as a consulting party.
Study Area
Primary and Secondary Study Areas
The Connecticut Ave study area corridor is located within Northwest Washington, DC, and is approximately 2.7 miles long. The corridor is a diverse mix of residential, commercial, and educational uses. The primary study area consists of Connecticut Avenue from Legation Street to Calvert Street, NW, and includes 24 signalized intersections. In addition, the secondary study area will consider operational impacts on Massachusetts Avenue to the west, Broad Brand Road to the east, Dupont Circle to the south, and Western Avenue to the north.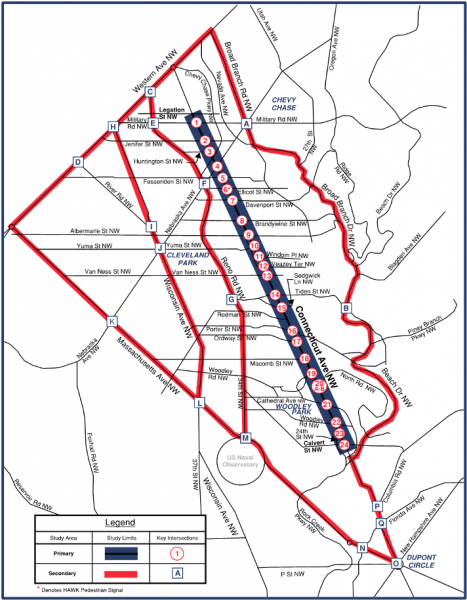 Preferred Concept
Concept C
During 2021, four Advisory Neighborhood Commissions and numerous organizations supported and provided resolutions to DDOT requesting that Concept C be advanced. On December 15, 2021, Mayor Bowser selected Concept C for the Connecticut Avenue Multimodal Safety Improvement Study. The decision to proceed with Concept C allowed DDOT to continue Concept Planning on this project.
What is Concept C?
Concept C includes numerous safety improvements, such as: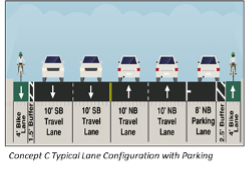 Installing protected bicycle lanes on each side of Connecticut Avenue,
Incorporating left and right turn lanes at various intersections,
Relocating some near-side bus tops to the far side of an intersection,
Adding pedestrian refuge islands and curb extensions,
Prohibiting no-turn on red,
Removing parking at some intersections to increase visibility and reduce crashes),
Removing the reversible lanes,
Reducing the speed limit from 30 mph to 25 mph, and
Including automated enforcement
The design allows for 24/7 parking in commercial areas
Taken together, the improvements will slow traffic down and increase safety for all users, especially for vulnerable users (such as pedestrians, cyclists, scooters, seniors, and children). The speed limit reduction and the removal of the reversible lanes were implemented during the spring/ summer of 2022.
Draft Connecticut Avenue Concept Development Maps - 06-28-2022
*The Concept Maps, dated 06-28-2022, will continue to be refined based on comments received at and subsequent to Public Meeting No.2.
Project Goals and Benefits
The goals and benefits for the Connecticut Avenue NW Reversible Lane Safety and Operations Study project include the following:
Reduce crashes and conflict points and enhance safety for all modes and roadway users
Consider additional mobility options along the corridor, such as protected bicycle lanes
Assess the feasibility of removing the Reversible Lane Operation
Determine the feasibility of reducing capacity along Connecticut Avenue and that effect on adjacent roadways
Public Involvement
As of November 2022, DDOT has held over 50 opportunities for community and agency engagement. The full list of events will be provided on the project website.
Community Advisory Committee Meetings
DDOT has included a Community Advisory Committee (CAC) for the Connecticut Avenue project. CAC members include Advisory Neighborhood Commissioners, organizational representatives, and subject matter experts. CAC meetings are open to the public. If you would like to be notified when a CAC meeting will be held, please use the following email: [email protected]. Additionally, CAC meeting notifications are sent to the Advisory Neighborhood Commissions for posting on their websites.
CAC Meeting Materials
Public Meetings
Public Meeting No. 1.
Two Public Meeting No. 1 events were held. One Virtual Public Meeting event was held on March 30, 2021, and a second Virtual Public Meeting was held on April 1, 2021.
Public Meeting No. 2.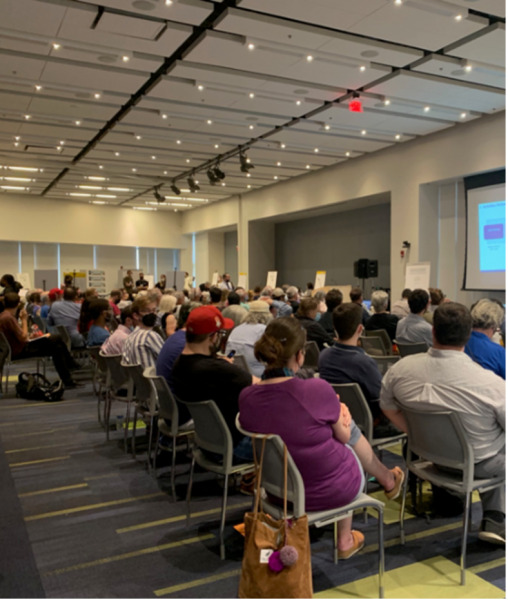 Two Public Meeting No. 2 events were held. One event was a Virtual Public Meeting on June 28, 2022, and a second in-person Public Meeting No. 2 was held on June 29, 2022, at the University of the District of Columbia.
June 29th, 2022, Connecticut Avenue NW Reversible Lanes and Multi-Modal Safety Improvement Project Public Meeting
Project Schedule
Next Steps
The following activities will take place between fall 2022 and spring 2023.
Traffic. Review and identify current traffic issues that may lend themselves to traffic-calming solutions. Traffic counts at various locations will be undertaken. That will allow DDOT to compare traffic volumes during the before and after conditions.

Design Refinements (as noted above)
Stakeholder meetings after the next iteration of design refinements are complete
Assessment of the feasibility of extending protected bicycle lanes from Legation Street NW to the south of Chevy Chase Circle
Design Procurement
Updates
Mayor Bowser Chooses New Design for Connecticut Avenue NW, Repurposing Reversible Rush-Hour Lanes with New Protected Bike Lane
Connecticut Avenue Peak Hour Reversible Lanes No longer in Operation
On March 19, 2020, the official start of the Covid-19 pandemic, the District Department of Transportation deactivated the operation of the Connecticut Avenue peak hour reversible lanes. The reversible lanes will not be reactivated. The recommendation to permanently remove the reversible lanes is included in the preferred alternative, and Concept C was officially approved by the Mayor and DDOT on December 15, 2021.
Project Resources