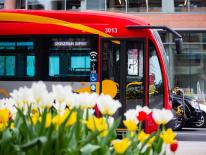 The District of Columbia is attracting new residential, commercial, and retail development/redevelopment at an unprecedented pace. This activity, while highly beneficial in many respects, generates significant additional vehicular traffic to, from, and within the District. As such, the current redevelopment permit process lacks a systematic approach and process within DDOT and all District agencies for integrating Transportation Demand Management (TDM) policies as a way of meeting the District's goals of reducing auto trips and accommodating travel through the complete transportation network.
TDM is now handled on a project-by-project basis, with limited opportunities for coordination among agencies or implementation of sub-area TDM goals. Current practice applies a one-size-fits-all framework to development, with limited differentiation across diverse geographic areas, development types, development sizes, or other aspects. This approach does not allow maximization of TDM opportunities or provide a process for consistently applying TDM analyses, nor does it apply TDM expectations specific to the anticipated traffic impacts of various types and scales of proposed development.
To address these issues, DDOT initiated this analysis of TDM in the development review process. Below, the report can be found.
Related Documents
DDOT Incorporation of TDM into the Development Review Process - Final Report