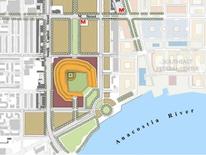 The DC Sports and Entertainment Commission, in partnership with the Washington Nationals Baseball Team and District Department of Transportation, prepared a Traffic Operations and Parking Plan (TOPP) for the new Baseball Park.
This document provides guidance on how transit riders, drivers, pedestrians and bicycle riders will safely and efficiently travel to and from the new Baseball Park on South Capitol Street.
The Transportation and Residential Curbside Management Document provides guidelines for multi-modal transportation routes and curbside management throughout the ballpark zone. DDOT and its partners will continue to review and update this document on a regular basis to keep the information timely and will strive to provide the safest and most efficient use of public space while protecting DC residents during ball games and other stadium events.
Goals
This study provides guidance on how people will travel to the new ballpark.
Program at a Glance
Program Title: Traffic Operations and Parking Plan for the Baseball Park
Agency: District Department of Transportation
Office: Progressive Transportation Services Administration (PTSA)
Type: Administrative
Related Documents