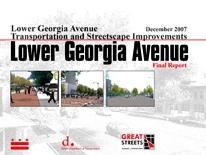 The District Department of Transportation (DDOT) commissioned a detailed study of strategic transportation improvements that could improve multimodal mobility in the Georgia Avenua corridor, while enhancing the public realm with a consistent and attractive streetscape. DDOT is committed to making major transportation investments and improvements along the corridor, including improvements to the streetscape and the public realm. DDOT and other District agencies wish to prioritize transit, economic development, overall safety, and in particular, pedestrian and bicyclist needs along the corridor.

Active collaboration and involvement with the community has been crucial for developing a consensus vision for the multimodal transportation design and management plan for Georgia Avenue presented in this document.
Major Study Goals
Provide a mechanism to create a comprehensive understanding of the current and future transportation system

Develop an overall street alignment

Determine the curb dynamics

Support the needs and growth of the local business

Develop a transportation management and right-of-way plan that supports expanded economic development and local mobility.

Develop transportation options that are conducive to an urban university campus environment.

Determine impacts of changes to Georgia Avenue on efficiencies and multimodal performance of other roads in the study area system.

Determine efficient strategies (parallel streets, Georgia Avenue retail) to develop bus rapid transit or streetcar service along the corridor.

Develop a plan that supports the needs and desires of the business, residential, and institutional communities.

Develop a plan to address pedestrian street crossing hazards at intersections and encourage greater pedestrian convenience and appeal.

Examine modes of transportation such as bicycling, walking, and mass transit and how these may impact lane configurations, safety, and parking along the corridor.

Provide options for resolving narrow sidewalks and tree spaces on Georgia Avenue and Sherman Avenue.

Develop a plan that will serve as the guide for the implementation of streetscape, transit, safety, and adjacent roadway improvements.
Project at a Glance
Project Title: Lower Georgia Avenue Transportation and Streetscape Improvements
Providing Agency: District Department of Transportation
Office: Planning and Sustainability Division (PSD)
Status: Completed
Type: Renovation/Modernization
Related Documents