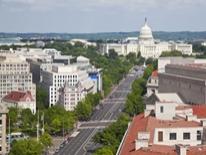 The District Department of Transportation (DDOT) has management and oversight responsibility for the use and occupancy of the public space. The goal of Public Space Management is to achieve and maintain safe and beautiful streets. Public Space is defined as all the publicly owned property between the property lines on a street and includes, but is not limited to, the roadway, tree spaces, sidewalks, and alleys.
Permit Links
Related Information
Meetings and Committees
Short & Sweet Videos

DDOT's Public Space Regulation Division (PSRD) Short & Sweet videos are a compilation of five-minute "how-to" videos that will help to supplement and enhance PSRD's goals to help make the customer service experience as seamless as possible. These video vignettes will touch upon several areas pertaining to PSRD, which will help both internal and external customers to understand a vast swath of standard operating procedures, efficient ways of operating, and new developments and training.
Public Space 101