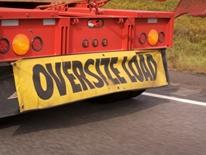 The Web Enabled Permitting System (WEPS) has been integrated into the Transportation Online Permit System (TOPS) to improve the application process when applying for permits to operate oversized and overweight vehicles in the District of Columbia, including single haul permits and annual tag permits.
With the new TOPS system, users may now register as individuals or as a companies. The new company registration feature makes it easy for any registered user from a specific company to apply for permits on behalf of his or her company. TOPS also stores all truck information, company information and individual user information for use at a later date or to facilitate renewing an annual tag permit.
Goals
To allow users to register as an individual or as a company and apply for permits to operate oversize and overweight vehicles within DC.
Program at a Glance
Program Title: Permits and Tags for Oversize and Overweight Vehicle Operation
Agency: District Department of Transportation
Office: Public Space Regulation Division (PSRD)
Type: Operations
Related Document
Permits and Tags for Oversized and Overweight Vehicle Operation