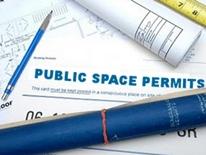 To occupy the District's public space, permit applications should be submitted to DDOT's Permitting Center.
Permitting Center
1100 4th Street SW, 2nd Floor
Phone: (202) 442-4670
Note: Applicants must visit the second floor to apply for permits. (The Permit Office is on the third floor.)
Hours of operation are between 8:15 am to 4:15 pm, Monday, Tuesday, Wednesday, and Friday. On Thursday, the hours are from 9:30 am to 4:15 pm.
Several years ago, DDOT launched an online application called the Transportation Online Permit System (TOPS), which allows users to apply online for public space permits.
Printable copies of the most commonly used applications are also available at Permit Applications for Use in Public Spaces.
Information on Public Space Permits and the Permit Application Process
Related Documents