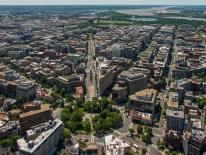 Public Space is defined as all the publicly owned property between the property lines on a street and includes, but is not limited to, the roadway, tree spaces, sidewalks, and alleys.
Certain uses of public space require a permit from Public Space Management.
DDOT launched a web-based permit application system called Transportation Online Permit System (TOPS), which allows users to apply online for public space permits. Since October 1, 2012, all applications for public space permits must include an electronic submission of all required materials. This can be done through the TOPS "Document Upload" feature.
The Public Space Locator is an online application enabled by DDOT's GIS (Geographic Information System). This system gives the public the ability to view permits on an interactive map. A user can enter a specific address or area and pull up all the Public Space Occupancy and Construction permits issued for that location or within that area, and see information including who the permits were granted to and for how long. They can also see permit applications that are pending approval and/or pending payment and can export the data for the selected area in spreadsheet format.
Applications may be submitted in-person at the following location:
DDOT Permit Office - Permitting Center
1100 4th Street SW, 2nd Floor
Washington, DC 20024
Hours of operation are between 8:30 am to 4:15 pm, Monday, Tuesday, Wednesday, and Friday. Thursday from 9:30 am to 4:15 pm.
Note: The Permit Office is on the third floor. Applicants must go to the second floor to apply for permits.
Electronic Kiosk
At the Permitting Center is an electronic kiosk to streamline the public space permit application process. Using the kiosk, a public space permit applicant will be able to prepare an electronic application for a permit. The kiosk will print a paper receipt that includes the receipt number, date of preparation, and a listing of the supporting documentation, such as plans, that must be submitted in person to the public space permit counter to complete the permit application and trigger the permit review process. If you are a first-time applicant you must click on the "New User Registration" button on the login screen to establish a username and password. A red asterisk '*' denotes a required field; the information for these fields must be entered to register and use the system. You will need to remember this username and password in the future in order to access details of your application at any of the public space permit kiosks.
Oversize and Overweight Vehicles
TOPS is also available to apply for permits to operate oversized and overweight vehicles in the District, including annual tags and single haul permits. Frequently asked questions can be answered at the kiosk or you may call the Permitting Office at (202) 442-4670 between 8:30 am to 4 pm, Monday to Friday, on normal business working days.
Goal
Uses of public space in the District of Columbia require a permit from DDOT.
Related Information
DDOT Requires Electronic Submission of Materials for Public Space Permit Applications