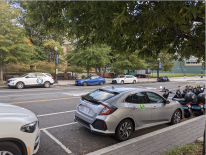 On-Street Carsharing in DC
The District Department of Transportation (DDOT) offers a public space permit program to companies interested in operating a carsharing service in public space.
The goals of this program are to:
Decrease parking demand by more efficiently using the District's curbside
Reduce greenhouse gas emissions, per the District's sustainability goals
Better availability of shared mobility services in the District (get people out of cars)
Equitable access to shared mobility services across the District
Collect program data for evaluation and transportation improvement
Improve the safety of District streets in order to support the District's Vision Zero effort
DDOT offers permits for two types of carsharing on-street in the District Point-to-point carsharing, sometimes called one-way or free-floating, allows customers to pick up a vehicle at one location and drop it off at another location. Reserved-space carsharing, sometimes called two-way or traditional, has customers to borrow from and return vehicles to the same reserved carsharing space.
The following companies have been granted a permit to operate a carsharing service in the District's public right-of-way.
For employers, residential sites, developers, and hotels, if you would like assistance with starting a corporate account for a carsharing service or placing a vehicle in your building, please reach out to goDCgo at [email protected].
Further carsharing locations and program details are available on the companies' websites.
Companies interested in learning more about our program should contact [email protected]. The current program terms and conditions are provided for reference below.
Carsharing Regulation