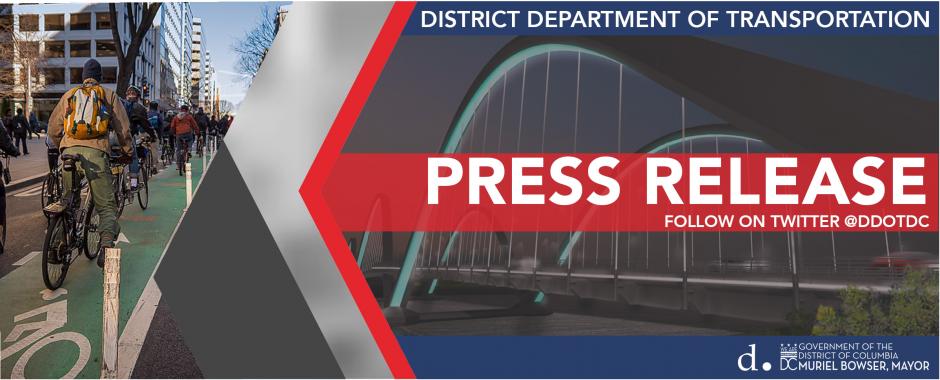 FOR IMMEDIATE RELEASE
Media Contacts
DDOT Begins Construction on 14th Street NW Bus Lane Improvement Project
(WASHINGTON, DC) — Today, the District Department of Transportation (DDOT) announced the start of bus lane construction on 14th Street NW between Euclid and Newton Streets NW, commencing a year-long project to improve bus performance and safety.
"We are excited to launch such important work in enhancing bus transit in the Columbia Heights corridor," said District Director Jeff Marootian. "DDOT recognizes how essential this will be for area residents and it also exemplifies Mayor Bowser's commitment to improving bus travel speeds and reliability across the District."
DDOT expects the enhanced bus lane will improve performance of the DC Circulator Woodley Park-Adams Morgan route and Metrobus lines 52, 54, and 59. The new protected, shared bike and bus lane will also improve safety for bicyclists and pedestrians by physically separating bicycles from other vehicular traffic. During the one-year project, DDOT will study the performance of buses, bicycles, and traffic in the corridor to assess benefits, impacts, and necessary refinements.
This project also includes a protected bike lane and new pick-up/drop-off zone on 14th Street NW between Irving Street NW and Park Road NW; and a new northbound left turn lane at Newton Street NW, which will help alleviate traffic congestion.
Construction will start on or about June 11, 2020 and is estimated to last between 60 and 90 days. The project will include shared bus and bike lanes that will be designated by red painted curb lanes and flex posts. To allow space to install the lanes, DDOT will eliminate 74 parking spaces along 14th Street NW. It will also consolidate bus stops to reduce travel time for bus passengers, placing stops on every other block, rather than every block.
For information about this 14th Street NW bus lane project, please visit ddot.dc.gov/page/14th-street-nw-bus-and-bike-lanes-demonstration-project.
For more information about the District's Bus Priority Program, visit ddot.dc.gov/page/bus-priority.
###
The mission of the District Department of Transportation (DDOT) is to enhance the quality of life for District residents and visitors by ensuring that people, goods, and information move efficiently and safely with minimal adverse impact on residents and the environment.
Follow us on Twitter for transportation-related updates and more; like us on Facebook and follow us on Instagram. Visit the website at ddot.dc.gov. Visit goDCgo.com for more information on transportation options in the District.