FOR IMMEDIATE RELEASE
Media Contacts
DDOT to Begin Safety Improvements at the Intersection of Blair Road/Cedar Street/4th Street NW
(Washington, DC) – The District Department of Transportation (DDOT) issued a Notice to Proceed (NTP) for the construction of Safety Improvements at the intersection of Blair Road/Cedar Street/4th Street in the Takoma neighborhood on July 29, 2019.
Activities are expected to begin on or about August 15, 2019 during off-peak hours, 9:30 a.m. to 3:30 p.m., Monday through Friday. Work may also occur on Saturdays between 9:00 a.m. and 7:00 p.m. Traffic will be maintained on all lanes during peak hours on weekdays and at least one lane in each direction at all other times.
Each of the three streets may be subject to alternate traffic patterns during the asphalt resurfacing work. DDOT will notify the public in advance of any traffic shifts.
Signage, traffic drums and protective barriers will be used to guide motorist through the work zone safety area safely.
Motorists should anticipate delays due to the shifting traffic patterns. Drivers are advised to stay alert while traveling to this location and be observant of road work crews. Coordination with WMATA will ensure continued operation of Metro buses during this period, however may result in alternate stop locations.
This project will convert 4th Street to a one-way street southbound with a dedicated bike lane and reconfigure the Blair Road/Cedar Street intersection to minimize vehicle and bicycle-pedestrian conflicts and at the same time prove much needed improvements and upgrades to the existing lights, signage and other infrastructure.
Once complete, the project will improve safety for all users of the roadway travelling through the intersection. Project highlights include improved roadway surfaces, high visibility crosswalks, ADA compliant infrastructure, upgraded traffic signals, new parking meters and traffic control devices, and additional stormwater management and landscaping. The project is expected to be completed by Spring 2020.
For more information about the Blair Road / Cedar Street / 4th Street Intersection Improvement project and to stay up-to-date on traffic-related impacts and construction progress, please visit: https://ddot.dc.gov/page/4thblaircedar-nw-intersection-improvements.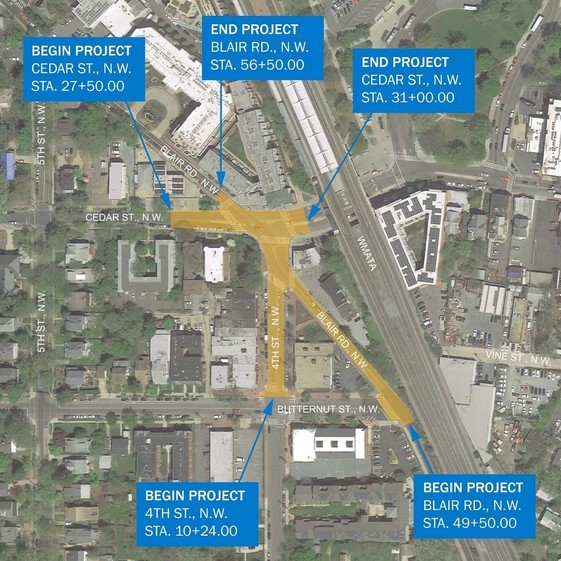 ###
The mission of the District Department of Transportation (DDOT) is to enhance the quality of life for District residents and visitors by ensuring that people, goods, and information move efficiently and safely with minimal adverse impact on residents and the environment.
Follow us on Twitter for transportation-related updates and more; like us on Facebook and follow us on Instagram. Visit the website at ddot.dc.gov. Visit goDCgo.com for more information on transportation options in the District.