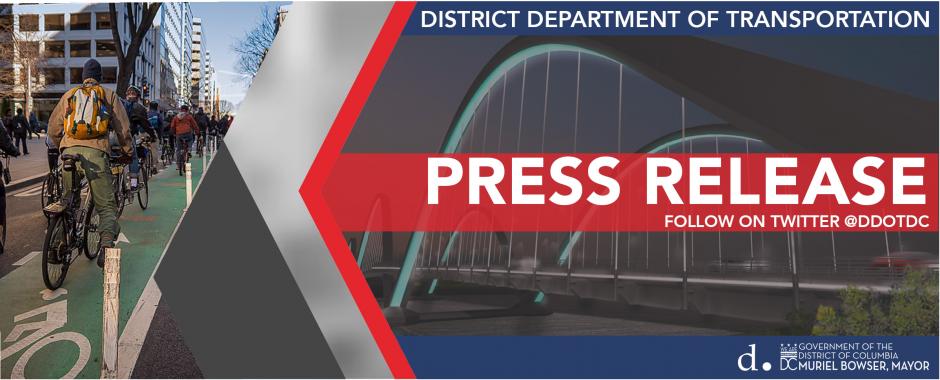 FOR IMMEDIATE RELEASE
Media Contacts
Bowser Administration Announces District Ranked as Fourth Best Bicycling City in the U.S.
(WASHINGTON, DC) — Today, the Bowser Administration and the District Department of Transportation announced that Washington, DC is ranked as the fourth most bikeable city in the nation by industry coalition group PeopleForBikes. The ranking, which is conducted annually, is based on an evaluation of 550 U.S. cities and assesses factors such as ridership level, system safety and bicycling network.
"Under Mayor Bowser's leadership, we have made incredible strides in expanding the District's infrastructure for safe cycling and other forms of sustainable transportation," said DDOT Director Jeff Marootian. "We are thrilled with this national distinction and remain committed to installing more facilities that will make it safer for cyclists, pedestrians, and all roadway users traveling through the District."
DDOT plans to install an additional 20 miles of protected bike lanes by 2022, adding to the existing 89 miles of bike facilities, including 12 miles of protected bike lanes, built since 2001. The plan is part of Mayor Bowser's ongoing effort to improve the safety of the multimodal transportation system in the nation's capital.
DDOT has several major protected bike lane projects currently under construction including:
Crosstown Protected Bike Lane, which closes a major gap in the existing bicycle network between Columbia Heights and Brookland
Brentwood Parkway Protected Bike Lane, an important connection between Union Market, New York Avenue, and the 9th Street NE Bridge
The Frederick Douglass Memorial Bridge, which includes protected bike and pedestrian facilities
The Fort Totten Extension of the Metropolitan Branch Trail, which once complete will add an important segment to the 8-mile shared-use trail that runs from Union Station in the District to Silver Spring, Maryland
Additionally, the District Department of Public Works recently expanded the District's bike lane enforcement program by mobilizing 26 new Parking Enforcement Officers (PEOs), bringing the total to nearly 300 officers. DPW has also improved the PEO team's ability to enforce bike lane violations by adding the ability to photograph violators and assess $150 citations.
To learn more about the District's bike infrastructure, visit ddot.dc.gov/page/bicycle-lanes.
For more information on the PeopleForBikes ranking, visit pfbcityratings.org.
###
The mission of the District Department of Transportation (DDOT) is to enhance the quality of life for District residents and visitors by ensuring that people, goods, and information move efficiently and safely with minimal adverse impact on residents and the environment.
Follow us on Twitter for transportation-related updates and more; like us on Facebook and follow us on Instagram. Visit the website at ddot.dc.gov. Visit goDCgo.com for more information on transportation options in the District.