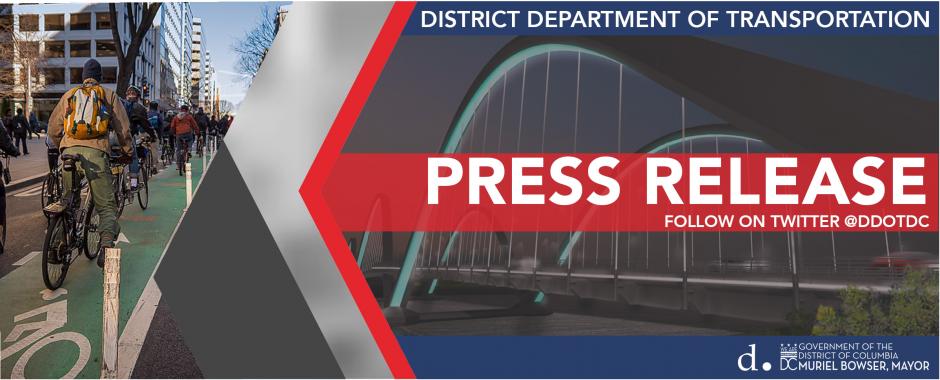 FOR IMMEDIATE RELEASE
Media Contacts
DDOT to Resume Paving in Residential Neighborhoods May 27
(Washington, DC) --Today, the District Department of Transportation (DDOT) announced that paving of local roadways will resume across all eight wards on May 27, weather permitting.
Since paving season began in March, DDOT has completed 23 miles of paving on highways and in District neighborhoods with fewer residential homes to avoid inconveniencing residents while they stay at home. In 2019, DDOT paved more than 100 miles of roadway across all eight wards of the District.
Repairing the District's roadways, alleys, and sidewalks is part of Mayor Muriel Bowser's PaveDC initiative to ensure that all the District's infrastructure is in a state of good repair by 2024. Infrastructure construction was deemed essential under the Mayor's declared public health emergency in response to coronavirus (COVID-19). All staff and contractors associated with roadway construction in the District were provided guidance from DC Health with best practices for protecting the health and safety of the workforce at work sites.
Doorhangers will be placed on the affected residences approximately one week before the beginning of construction. Emergency No Parking Signs (ENP) will be posted 72 hours before work begins. All vehicles must be removed from the street as indicated on ENP signs so crews can complete their work.
Milling and paving of a roadway generally requires 3 to 5 days to complete. If there is a weather delay, DDOT will reschedule the work.  
Residents can follow paving plans and progress on the PaveDC portal or sign up to receive the DDOT Weekly Construction Update, which lists all of DDOT's planned and active construction work on roadways, sidewalks, and alleys, organized by ward. For more information about DDOT's paving plan, please visit ddot.dc.gov or call 202-671-2700.
Resources and additional information about the District's coronavirus (COVID-19) response and recovery efforts can be found at coronavirus.dc.gov.
###
The mission of the District Department of Transportation (DDOT) is to enhance the quality of life for District residents and visitors by ensuring that people, goods, and information move efficiently and safely with minimal adverse impact on residents and the environment.
Follow us on Twitter for transportation-related updates and more; like us on Facebook and follow us on Instagram. Visit the website at ddot.dc.gov. Visit goDCgo.com for more information on transportation options in the District.