Monday, November 18, 2019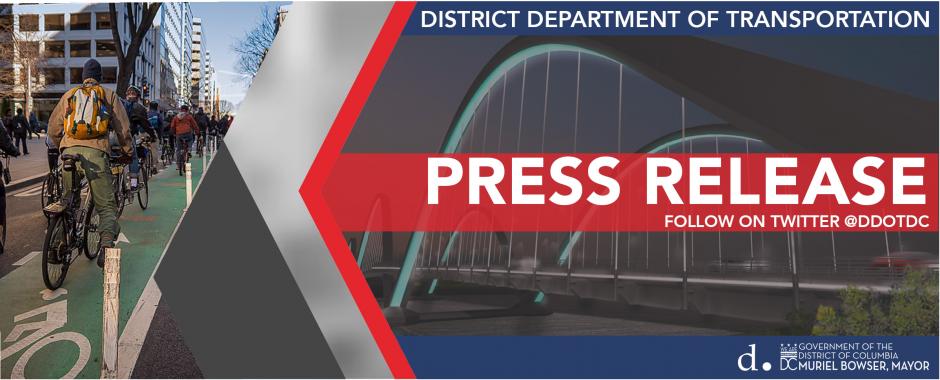 FOR IMMEDIATE RELEASE

Media Contacts
DDOT Launches Three Pedestrian-Only Zones
Innovative Use of Public Space Advance Mayor Bowser's Safety, Sustainability Goals

(Washington, DC) – Today, the District Department of Transportation (DDOT) announced three pilot pedestrian-only zones as part of the District's ongoing efforts to find innovative uses of public space.


"The success of Open Streets and our annual Park(ing) Day celebration demonstrates that there's an appetite for pedestrian-only zones across all eight wards of the District," said DDOT Director Jeff Marootian. "Initiatives like these are an opportunity for us to partner with the business community to achieve Mayor Bowser's safety and sustainability goals."


DDOT partnered with Eastbanc Inc., a private real estate development, lifestyle, and technology firm, to open Cady's Alley exclusively to pedestrians on weekends through the end of December. Cady's Alley, located near the intersection of 33rd Street NW and M Street NW, is a popular destination for Washingtonians visiting the mix of eateries and unique retailers that line the alley. Cady's Alley is a pedestrian-only zone on weekends beginning at 6:00 p.m. on Fridays until 6:00 p.m. on Sundays.

In partnership with the Georgetown Business Improvement District, two parklets at 1055 Thomas Jefferson Street NW and the 3200 block of O Street NW were created. The parklets, which are permitted through September 2020, are extensions of the sidewalk and create additional gathering space near local businesses for residents and visitors to enjoy while visiting Georgetown.

The Golden Triangle BID also created a new pocket park for pedestrians at the corner of 19th Street NW and Pennsylvania Avenue NW. The right-turn lane from Pennsylvania Avenue NW onto H Street NW, adjacent to Murrow Park, was enclosed with safety bollards and large planters, and features bright paint, plantings, and café tables for visitors, students, and area residents to enjoy.

These installations are part of DDOT's ongoing effort to reimagine the curbside space and realize the District's sustainability goals. Any business, non-profit, or community group interested in partnering with DDOT to create innovative installations in public space should contact [email protected].

###

The mission of the District Department of Transportation (DDOT) is to enhance the quality of life for District residents and visitors by ensuring that people, goods, and information move efficiently and safely with minimal adverse impact on residents and the environment.

Follow us on Twitter for transportation-related updates and more; like us on Facebook and follow us on Instagram. Visit the website at ddot.dc.gov. Visit goDCgo.com for more information on transportation options in the District.