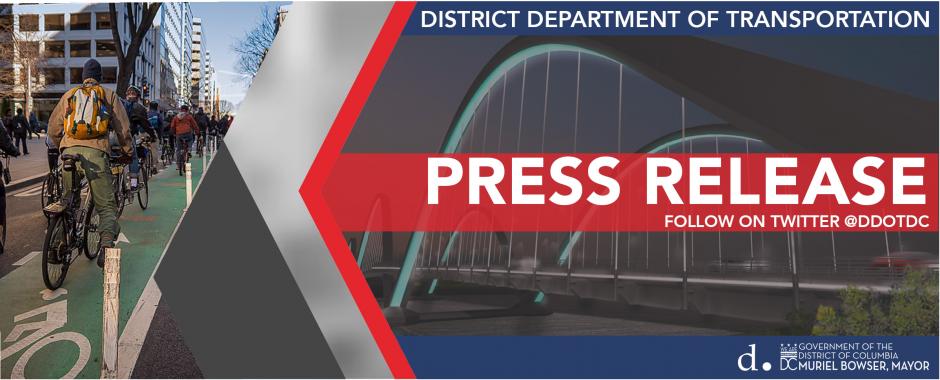 FOR IMMEDIATE RELEASE
Media Contacts
DDOT Announces Modified Transportation Operations Around Nationals Park for 2020 Baseball Season
(Washington, DC) -- Today, the District Department of Transportation (DDOT) announced modified transportation operations plan for the Stadium Event Zone around Nationals Park for the duration of the 2020 baseball season.
Major League Baseball will play games without fans in stadiums due to coronavirus (COVID-19). Therefore, the 2020 season will result in dramatic reductions in crowd sizes and traffic around Nationals Park. Accordingly, the District is implementing a scaled-down game-day stadium operations plan for 2020.
The following measures will begin Thursday, July 23 and may be modified as needed based on evolving traffic conditions:
No game-day For-Hire Vehicle Pick-Up/Drop-Off Zones.
No game-day taxi stand on M Street, SE.
No game-day street closures. Resident placards are not required.
Game-day parking restrictions will be limited to N Street, SE, First Street, SE (south of M Street), Potomac Avenue SE, and M Street, SE from South Capitol Street, SE to 5th Street, SE
Parking will be prohibited on the north side of Potomac Avenue, SE 24 hours a day, seven days a week during the 2020 season.
Restrictions will be in place 1 hour before scheduled game start times and 1 hour after the game ends
Parking regulations in the Stadium Zone will be enforced. Parking restriction signs now refer drivers to see the parking meters for details, which will in turn indicate when parking is restricted. All street closures and parking restrictions are subject to change based upon prevailing or unexpected conditions.
DDOT is temporarily lifting the suspension of work requirement for construction-related activities immediately surrounding Nationals Park during home games.
###
The mission of the District Department of Transportation (DDOT) is to enhance the quality of life for District residents and visitors by ensuring that people, goods, and information move efficiently and safely with minimal adverse impact on residents and the environment.
Follow us on Twitter for transportation-related updates and more; like us on Facebook and follow us on Instagram. Visit the website at ddot.dc.gov. Visit goDCgo.com for more information on transportation options in the District.