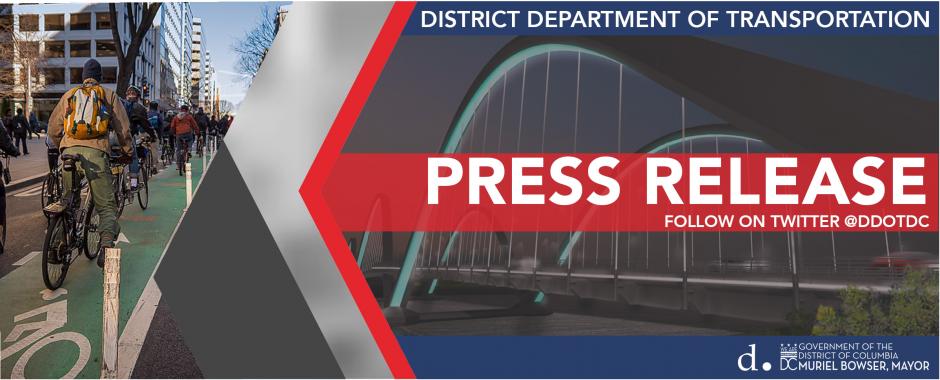 FOR IMMEDIATE RELEASE
Media Contacts
Capital Bikeshare Offers Free Memberships for Essential Workers in DC Region
WASHINGTON, DC – Today, the District Department of Transportation (DDOT) and its six partner jurisdictions announced that Capital Bikeshare will provide free 30-day memberships to essential workers in the DC Metropolitan Area, as the region continues its response to the coronavirus (COVID-19) public health emergency.
"We are extremely thankful for all of the essential workers who are providing critical services during this unprecedented public health emergency," said DDOT Director Jeff Marootian. "This free membership is one way that we can support our neighbors, and ensure that they have a safe, reliable option for their commutes."
Essential workers eligible to participate include those in the healthcare, food service, food retailers, and other essential industries, traveling anywhere in the seven member jurisdictions of the District of Columbia, Arlington County, the City of Alexandria, the City of Falls Church, Fairfax County, Montgomery County, and Prince George's County.
Companies employing essential workers can enroll now through May 1, 2020 for unlimited 30-minute trips for 30 days. Enrollment is free, and the free membership will not auto-renew into a paid membership. In addition, Capital Bikeshare users can purchase $1 Single Ride Passes for essential trips, in both the Capital Bikeshare and Lyft apps, through May 31.
For enrollment information, employers that want to enroll their staff, as well as essential workers who want to enroll directly, should email [email protected] Should the public health emergency continue beyond May 31, 2020, the Capital Bikeshare member jurisdictions will determine ridership needs and the best way to support the program further.
In support of the prevention guidelines recommended by the Centers for Disease Control and Prevention (CDC) and local health departments, Capital Bikeshare has implemented an enhanced cleaning protocol to protect riders. In addition to disinfecting bikes every time they are returned to the depot, rebalancers are cleaning every bike at every station they visit, focusing on high traffic stations. The team disinfects all high contact surfaces of bikes, with a focus on the most frequently used bikes. High contact surfaces on vans used to transport bikes are also being disinfected at the start of each shift, and associates are wearing gloves when handling bikes.
For the latest information on the District Government's response to COVID-19, please visit coronavirus.dc.gov.
###
The mission of the District Department of Transportation (DDOT) is to enhance the quality of life for District residents and visitors by ensuring that people, goods, and information move efficiently and safely with minimal adverse impact on residents and the environment
Follow us on Twitter for transportation-related updates and more; like us on Facebook and follow us on Instagram. Visit the website at ddot.dc.gov. Visit goDCgo.com for more information on transportation options in the District.