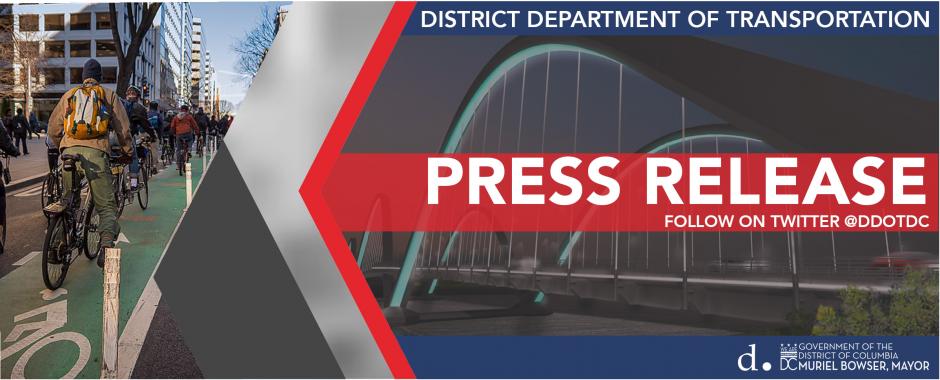 FOR IMMEDIATE RELEASE
Media Contacts
Capital Bikeshare Introduces New eBike Fleet
New pedal-assist bikes increase mobility options in the Washington region
(WASHINGTON, DC)–Today, the District Department of Transportation (DDOT) and its six partner jurisdictions, announced that new eBikes with pedal-assist technology will return to the Capital Bikeshare system on July 8.
"We are thrilled that Capital Bikeshare's eBike fleet will offer residents, commuters, and visitors another affordable, convenient, and sustainable mode of transportation here in the District," said Mayor Muriel Bowser. "Capital Bikeshare continues to be a cornerstone of our transportation infrastructure planning and how we move people efficiently through the region."
Starting tomorrow, Capital Bikeshare, which is operated by Lyft, will roll out its fleet of dockless eBikes with pedal-assist technology. The eBikes can be unlocked using a scannable, contactless QR code in both the Capital Bikeshare and Lyft apps, or by using a member key. By boosting riders' own pedal power, eBikes help riders make longer trips with ease. eBikes can be parked at Capital Bikeshare docking stations for free, and also at public bike racks using a built-in cable lock for an additional out-of-station fee.
"For close to two decades, the District has led the way with mobility options for our residents and visitors," said DDOT Director Jeff Marootian. "Capital Bikeshare eBikes are a fun, affordable transportation alternative for long-time members and new customers to get around the region."
eBike Pricing
Annual Membership: $85 per year for unlimited, 30-minute rides on classic bikes. Members who choose to upgrade to an eBike will pay $1 to unlock.
Capital Bikeshare for All: $5 a year for unlimited, 60-minute rides on classic bikes specifically for lower-income Metro DC residents. These members will not pay any additional eBike fees during 2020.
Casual Passes: $2 per ride for any single 30-minute trip on a classic bike or $8 for a Day Pass inclusive of unlimited 30-minute trips on a classic bike. If these riders choose to upgrade to an eBike, they will pay $1 to unlock.
Parking: There is no parking fee for eBikes locked and parked at Capital Bikeshare docking stations. Capital Bikeshare eBikes parked at a public bike rack will incur $1 fee. Bikes should only be parked at Capital Bikeshare stations or public bike racks. Fines may be assessed for improper parking (such as parking at trees or accessibility ramps).
Capital Bikeshare disinfects all high-contact surfaces on bikes each time they arrive in the depot. Staff wear gloves and face coverings when handling bikes in the depot and at valet stations. High-contact surfaces on vans used to transport vehicles are also disinfected at the start of each shift.
About Capital Bikeshare
Capital Bikeshare is Metro DC's bikeshare system, with more than 5,000 bikes available at 600+ stations across seven jurisdictions: Washington, DC; Arlington, VA; Alexandria, VA; Montgomery County, MD; Prince George's County, MD; Fairfax County, VA; and the City of Falls Church, VA. Capital Bikeshare provides residents and visitors with a convenient, fun and affordable transportation option for getting from Point A to Point B. Capital Bikeshare is operated by Lyft, the largest bikeshare operator in North America, and Lyft is funding the new Capital Bikeshare ebikes.
###
The mission of the District Department of Transportation (DDOT) is to enhance the quality of life for District residents and visitors by ensuring that people, goods, and information move efficiently and safely with minimal adverse impact on residents and the environment.
Follow us on Twitter for transportation-related updates and more; like us on Facebook and follow us on Instagram. Visit the website at ddot.dc.gov. Visit goDCgo.com for more information on transportation options in the District.