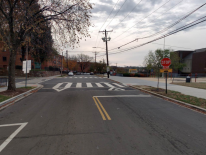 The District Department of Transportation (DDOT) is committed to making our city's streets safer for everyone while minimizing impacts to traffic operations. A combination of traffic control devices and traffic calming measures help keep all users of the roadway safe. DDOT's Traffic Safety Assessments identify intersections and corridors of concern, analyze existing conditions, and provide a plan for safety mitigations.
A Traffic Safety Assessment is initiated when a resident, ANC, or other community member or organization raises traffic safety concerns within the public right-of-way. When a traffic safety concern is identified, DDOT's Roadside Safety Branch of the Traffic Engineering and Signal Division will perform a Traffic Safety Assessment to evaluate the extent of the safety issue and determine if any action is needed.
Residents should complete a Traffic Safety Assessment Questionnaire to provide information about the reported issue. Additionally, residents are required to obtain a letter of support from their ANC Commissioner. A petition is not required. For more information about the Traffic Assessment process, please review the How to Request a Traffic Safety Assessment flyer.
The Traffic Safety Assessment process takes approximately 120 days to complete. Once completed, DDOT will deliver the study results to the resident before closing out the request. If a safety mitigation is necessary, DDOT will develop recommendations and work with the community to identify the most appropriate solution(s). If the proposed recommendations change existing traffic control and/or on-street parking, a Notice of Intent will be issued by DDOT, which includes a 30 business-day public comment period. The timeline for installation of improvements varies based on the safety mitigation identified.