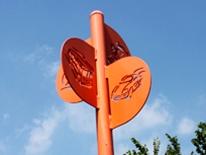 What is carsharing?
Carsharing is a membership-based program that provides the use of privately owned and maintained vehicles for short-term use in the metropolitan area. Vehicles can be rented for as little as an hour. This reduces the need to bring your own car into the city. Currently Zipcar provides this service in DC. Carsharing is a supplement to public transit. When used in conjunction with public transportation, walking or bicycling, carsharing can reduce or eliminate the need for owning a personal vehicle (Studies show that 6 to 10 households can share a single carsharing vehicle.) Carsharing vehicles can be rented for as little as a few minutes a day.
What is the difference between traditional (reserved) on-street carsharing and point-to-point on-street carsharing programs?
The most common model of carsharing is traditional or reserved carsharing also known as roundtrip car rental service. This means you have to reserve the car in advance and once you're done, you have to return it to the same designate parking space you picked it up. The point-to-point carsharing model allows customers to pick up a vehicle at one location and drop it off at another. Using the point-to-point carsharing model, you can drive one-way and conveniently leave the car at your destination for the next person.
How many carsharing companies currently operate in the District?
Currently there are three carsharing companies operating in the District: Zipcar and Enterprise are operating a traditional (roundtrip) carsharing programs and Car2Go is operating a point-to-point carsharing program. All carsharing companies operating in the District are required to obtain a public space permit from the Public Space Regulations Administration (PSRA). All service inquiries should be directed to the respective companies.
How do I sign up?
Complete a membership application online with the provider of your choice, or call any provider and choose the company that is the best fit for you.
Do I pay for gas and insurance?
Gas, maintenance, insurance and the rental fee are included in the price of the vehicle rental. Contact carsharing providers for further details and pricing.
Where are the cars located?
Carsharing vehicles are located throughout Washington, DC. Locations of carsharing vehicles are listed on carsharing providers' websites. Then, it is a simple matter of choosing the carsharing company and location that is best for you. DDOT has placed highly visible orange signposts next to reserved traditional on-street carsharing locations for Zipcar and Enterprise vehicles. Location of Car2Go vehicles vary depending on where the vehicle was last dropped off. All Car2Go vehicles are equipped with GPS systems; Car2Go's mobile app shows real time location of Car2Go vehicles in the District.
Where can I park my carsharing vehicle?
When running errands throughout the city, carsharing vehicles must be parked in legal parking spaces. Traditional carsharing vehicles (Zipcar and Enterprise) need to be returned to the location they were picked up from at the end of the trip.
Where can I drop off my carsharing vehicle?
Parking spaces at pick-up and drop-off locations are reserved for Zipcar and Enterprise carsharing vehicles. The curbside carsharing spots are clearly marked with "No parking except carshare vehicle" signs and stencils to ensure that the space is there for you when need it. Car2GO vehicles can be dropped off in any legal NON RUSH HOUR ZONE parking space within the District of Columbia. Restricted drop-off areas are listed in Car2GO's Frequently Asked Questions flyer.
Can I park my carshare vehicle in any carshare spot?
No. Each traditional carsharing vehicle has one designated parking space. Other carsharing spots must remain available for other carshare users. If you are using the vehicle you will be responsible for parking it legally. Contact service providers for specific parking details.
What happens if I need assistance with the vehicle?
Carsharing providers offer 24-hour customer service. If you need assistance, contact your service provider for help.
How can carsharing create more parking for everyone in my neighborhood?
Carsharing membership is a good idea for some people -- and not for others. Many who feel that carsharing is not a good option for them wonder whether designated carsharing parking spaces will make it more difficult for them to park in neighborhoods where parking is already scarce. Studies have shown that 6 to 10 households can share a single carsharing vehicle. Studies have also shown that many carsharing members sell a car they own or avoid the purchase of a car that they planned to buy before joining the carsharing service. For these reasons, DDOT is confident that carsharing parking spaces will reduce the total number of cars in congested neighborhoods and make parking easier for everyone - whether they use carsharing or not. Think about the bus stops in your neighborhood. Cars aren't allowed to park there. But because they make it possible for so many people to use transit and avoid car ownership, bus stops (and the bus service that goes with them) actually free up more parking spaces than they consume.